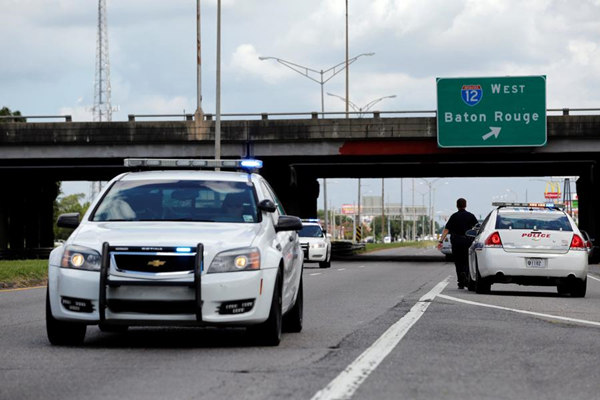 Police officers block off a road after a shooting of police in Baton Rouge, Louisiana, United States, July 17, 2016. [Photo/Agencies]
HOUSTON -- Three police officers were killed, several others injured on Sunday in a shooting incident in Baton Rouge, the capital city of the US state of Louisiana.
The incident happened around 9:30 am local time and a manhunt was on for the suspect or suspects. A man, who was dressed in black with his face covered, shot indiscriminately when he walked out between a convenience store and car wash across from Hammond Air Plaza, according to local TV station KHOU.
Police closed the streets between the police department's headquarters and Interstate 12. Two hospitals in the city are currently on lockdown with police guarding the facilities.
On July 5, a 37-year-old black man was shot and killed by two white police officers in Baton Rouge, triggering protests across the United States.