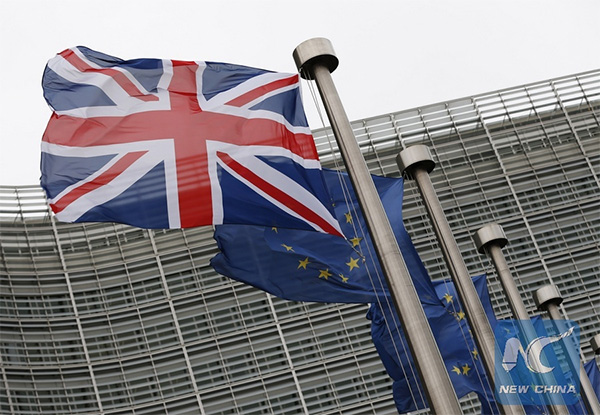 Photo taken on Jan. 29, 2016 shows the UK and EU flags outside the European Commission headquarters in Brussels, Belgium.[Photo/Xinhua]
After Britain voted to leave the European Union (EU) in a historic referendum, foreign ministers from six founding countries of EU met on Saturday here, pushing for a speedy exit procedures of Britain.
"This process should start as soon as possible," said German Foreign Minister Frank Walter Steinmeier after a meeting with his counterparts from France, Italy, the Netherlands, Belgium and Luxembourg on Saturday in Berlin.
The aim must be "not to fall into a prolonged stalemate", he added.
"We'll start immediately", French Foreign Minister Jean-Marc Ayrault also said, adding that "we now expect that the process will be triggered under Article 50." He said British Prime Minister David Cameron initiated this referendum, and "he must now live with the consequences".
With his colleagues, he would send the signal that "Europe is alive," Ayrault said.
Meanwhile, the official also urged a speedy transfer of power in Britain.
Cameron announced on Friday his intention to step down after his country has voted to leave the EU.
Beyond that, Britain's European Commissioner Jonathan Hill, responsible for Financial Stability, Financial Services and the Capital Markets Union, also decided to resign from his post, said a press release issued by the European Commission on Saturday.
In the meantime, Labour's opposition leader is urged to go and there is a new call for Scottish independence. All these were reactions to a shock decision by Britain to say "au revoir" to its membership of the European Union.
"I hope that we are not playing cat and mouse," warned Luxembourg's Foreign Minister Jean Asselborn with a view at London's policy.
"The people have spoken. And we need to implement this decision," he said, adding that Britain must now quickly start up the mechanism for exit which was defined in Article 50 of the Lisbon Treaty.
While EU pushed Britain for a quick exit, a petition to parliament calling for a second referendum on Britain's EU membership have gathered more than one million signatures by midday Saturday.
The petition demands a change in the law to pave the way for a re-run of Thursday's national vote. It calls for a majority of 60 percent and a turnout of 75 percent before any change in Britain's EU membership can take place. The petition was gaining pace at a rate of thousands of signatures every hour.
The petition was started by British citizen William Oliver Healey, and reads:"We the undersigned call upon HM Government to implement a rule that if the Remain or Leave vote is less than 60 percent based a turnout less than 75 percent, there should be another referendum."
It was started by Healey following shockwaves after 17.5 million Britons voted to leave the EU. That represented 51.9 percent of voters, compared to 48.1 percent who opted to remain part of the bloc.
A second petition, already signed by more than 100,000 people, is calling on London's mayor Sadiq Khan, to declare the British capital independent from Britain so that it can apply to join the EU.
The petition, launched by Londoner James O'Malley, stated that London is an international city and "we want to remain at the heart of Europe".
So far,the outcome of the referendum has not only caused political earthquake across Europe, but also sent shock waves aross European stock markets on Friday.
The result came as a surprise to European stock markets, which saw slumps in nearly every major index. The Euro Stoxx index plummeted by 8.62 percent, France CAC 40 down by 8.04 percent, FTSE 100 by 3.2 percent and Germany's DAX index by 6.82 percent.
Commenting on the result, Deutsche Bank AG CEO John Cryan said in a written statement that it was not a good day for Europe and negative on all sides.