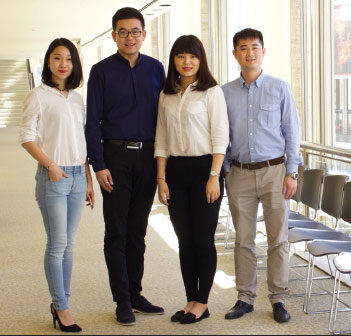 Shanghai Orchestra Academy fellowship winners, from left,violist Tong Ba, violinist Aolie Wu, bassoonist Hui Zhang and oboist Shuang Lyu during a break in rehearsals with the New York Philharmonic at Lincoln Center on Tuesday. They will sit in on the orchestra's free performances of Beethoven's Third Symphony the Eroica in Central Park on Thursday and Prospect Park in Brooklyn on Friday. Niu Yue / For China Daily
Four accomplished musicians from the Shanghai Orchestra Academy are living a dream come true in New York City this week as they take part in a special residency with the New York Philharmonic.
China Daily caught up with them during a break in rehearsal at Lincoln Center on Tuesday as they prepare for their two big events - performing Beethoven's mighty Third Symphony, the Eroica, in Central Park on Thursday and in Prospect Park in Brooklyn on Friday.
The four young virtuosos, who were chosen by NY Philharmonic musicians by audition in Shanghai last March, seemed up to the challenge.
Bassoonist Hui Zhang, 24, originally from Harbin and the principal bassoonist of the Shanghai Conservatory Symphony, was taken under wing by the principal bassoonist of the NY Philharmonic. Hui, who started saxophone at age 11 switching to bassoon at 13, said she had already picked up a few tips on breathing techniques and phrasing from her mentor.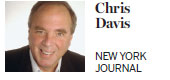 She said her favorite part of the Eroica comes in the third movement when the bassoons and flutes talk back and forth with each other. She will sit as the third bassoon in a score that calls for only two. She also said that Beethoven is no stranger to her - she has already played all nine of his symphonies as well as all of his works for woodwind quintet.
For Liaoning-born viola player Tong Ba, 29, this is her third time in New York. It has long been her dream to play with the New York Philharmonic and play in New York. She said that most of her previous experience had been as solo and chamber music and playing with a large group was a different kind of challenge, especially the precision and detail of blending in.
"Because solo you are the soloist and so you can do anything you want," she said, "but in an orchestra, we need to think together, bow strokes and sound quality have to be unified. So far, so good."
For this concert they will have 12 violas on six music stands. Tong will sit in the fourth row, inside seat, near the bases. "I think it is the best seat," she said. "We have a lot of people behind me to push the sound out."
She said the musicians sitting around her are very friendly, and very passionate, and she had already established a good rapport with her music stand partner. (Because she sits on the inside seat, it's her chore to also turn the pages of the score).
Tong said the three best things about the experience so far have been getting to rehearse under the baton of Alan Gilbert, the piece of music itself and getting a private guided tour of the Philharmonic's archive.
"From its founding, all these full scores, including one that Mahler had used with his markings still on it and all these batons from very famous conductors," she said. "In every corner of this place there is history."
For Xinjiang-born violinist Aolie Wu, this was his first time in New York, which he was finding "pretty good, I love it," he said. His first time through Beethoven's Third with the orchestra he said, "Was a shock to me." He had played with other orchestras before, but this was different.
"A much better sound, I think," he said. "Everybody can listen to each other and see the conductor and come together for the symphony, for the music."
Beethoven's Third, he said, "is not an easy piece" because it takes a lot of practice for the musicians to meld and fuse and create a unified sound."
Aolie will be playing the first violin part and, like Tong Ba, he'll sit fourth row middle, right in the center of the action. He has been taken under wing by both the concert master and associate concert master and is having lessons with each.
Oboist Shuang Lyu, 28, was born in Hangzhou and studied at the Shanghai Conservatory of Music. He said he chose the oboe at the age of 15 because he liked the sound of it.
The woodwinds are very important in Beethoven's Third, he said, and there are several oboe solos. He won't be tackling any of those, but rather doubling the second oboe.
There's plenty of time.
Contact the writer at chrisdavis@chinadailyusa.com.