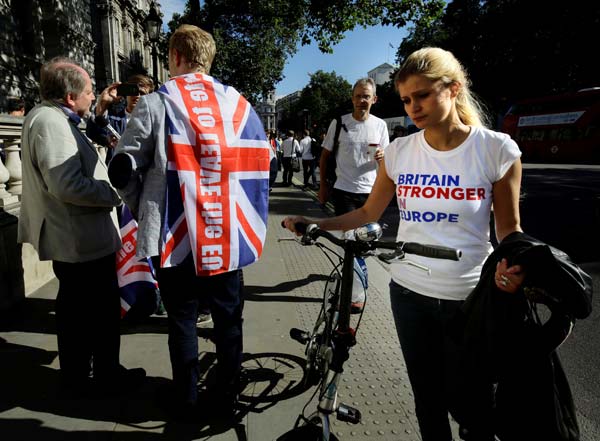 A vote remain supporter walks past a vote leave supporter outside Downing Street in London, Britain June 24, 2016 after Britain voted to leave the European Union.[Photo/Agencies]
LONDON -- A petition to parliament calling for a second referendum on Britain's EU membership gathered more than one million signatures Saturday.

The referendum was started just 24 hours earlier, with the rate of support the fastest ever since the British government introduced the ability of citizens to protest to parliament.

So many people were clamouring to sign the petition, at one point the government's IT system crashed.

By midday Saturday 1.2 million people had added their names, mostly in London, but with strong support in Manchester, Oxford and Cambridge.

The petition demands a change in the law to pave the way for a re-run of Thursday's national vote. It calls for a majority of 60 percent and a turnout of 75 percent before any change in Britain's EU membership can take place. The petition was gaining pace at a rate of thousands of signatures every hour.

The petition was started by British citizen William Oliver Healey, and reads:"We the undersigned call upon HM Government to implement a rule that if the Remain or Leave vote is less than 60 per cent based a turnout less than 75 per cent there should be another referendum."

It was started by Healey following shockwaves after 17.5 million Britons voted to leave the EU. That represented 51.9 percent of voters, compared to 48.1 percent who opted to remain part of the bloc.

The popularity of the petition means it must be considered for a Parliamentary debate in the House of Commons, but that does not mean its sentiments will carry any legal weight.

Constitutional experts will have to decide whether such a measure can be backdated to overrule the June 23 referendum result.

The parliamentary petitions system is overseen by a parliamentary petitions committee, who consider whether petitions that receive more than 100,000 signatures should be raised in the House. The committee is due to sit again on Tuesday when a decision will be reached.

A second petition, already signed by more than 100,000 people, is calling on London's mayor Sadiq Khan, to declare the British capital independent from the UK so that it can apply to join the European Union.
The petition, launched by Londoner James O'Malley, stated that London is an international city and "we want to remain at the heart of Europe".

The petition is calling on mayor Sadiq Khan to declare London independent, and apply to join the EU.

That petition is not on the parliament site and will therefore carries no legal weight or authority, but illustrates the rift that has been opened by the referendum in which London voted to stay in the EU while the rest of England opted to leave.