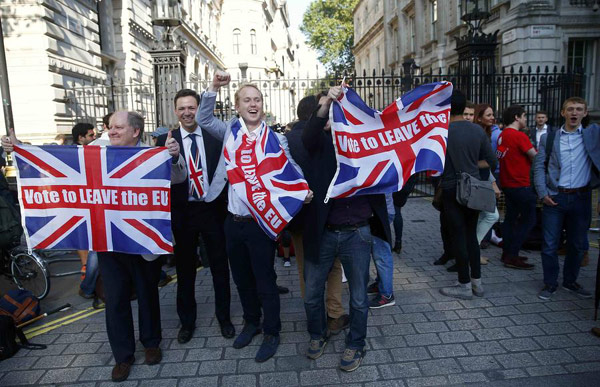 Vote leave supporters wave Union flags, following the result of the EU referendum, outside Downing Street in London, Britain June 24, 2016. [Photo/Agencies]
Following are reactions from celebrities and politicians on Friday to Britain's referendum vote to leave the European Union:
J.K.Rowling, British novelist: Scotland will seek independence now. Cameron's legacy will be breaking up two unions. Neither needed to happen. I don't think I've ever wanted magic more.
Edward Snowden: No matter the outcome, Brexit polls demonstrate how quickly half of any population can be convinced to vote against itself. Quite a lesson.
Nigel Farage, leader of the UK Independence Party (UKIP): We've got our country back. Thanks to all of you. June 23rd must now be made a national holiday.
Brendan Cox, husband of Jo Cox: Today Jo would have remained optimistic and focused on what she could do to bring our country back together around our best values.
Neil Gaiman, English author:
Dear UK,
Good luck.
I am afraid you are going to need it,
Love
Neil
Wanda Sykes, American comedian: That Nigel dude is British Trump. He said "a win for real people, descent people." Why didn't he just say "white people?"
Boy George, English singer: There's no use crying over spilt milk. We'll just have to make the best of it.