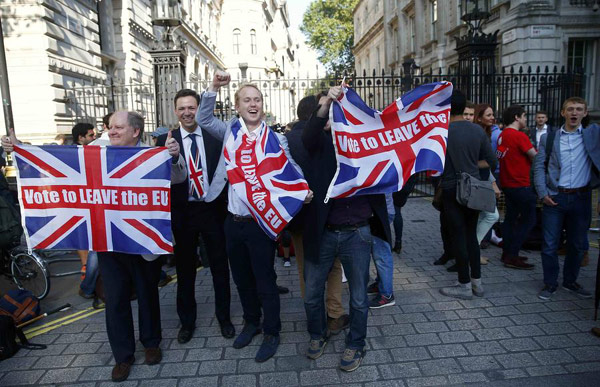 Vote leave supporters wave Union flags, following the result of the EU referendum, outside Downing Street in London, Britain June 24, 2016. [Photo/Agencies]
LONDON - Following are reactions from world leaders and politicians on Friday to Britain's referendum vote to leave the European Union:
EUROPEAN COUNCIL PRESIDENT DONALD TUSK
"We are determined to keep our unity as 27 ... I will propose that we start a period of wider reflection on the future of our union."
GERMAN FOREIGN MINISTER FRANK-WALTER STEINMEIER:
"The news from Britain is really sobering. It looks like a sad day for Europe and Britain."
FRENCH FOREIGN MINISTER JEAN-MARC AYRAULT
... said he was "sad for the United Kingdom".
"Europe will continue but it must react and rediscover the confidence of its peoples. It's urgent."
GERMAN FINANCE MINISTER WOLFGANG SCHAEUBLE
"I had hoped for a different result. Now we must look forward and deal with this situation ...
"The EU process for an exit from the European Union is clearly defined and will be applied. Europe will stand together now."
NORWEGIAN PRIME MINISTER ERNA SOLBERG
... called the vote a "signal from both the British voters and many other voters around Europe who feel that the EU is not providing good enough answers to today's challenges".
HUNGARIAN PRIME MINISTER VIKTOR ORBAN:
"Brussels must hear the voice of the people, this is the biggest lesson from this decision ...
"Europe is strong only if it can give answers to major issues such as immigration that would strengthen Europe itself and not weaken it. The EU has failed to give these answers."
POLISH FOREIGN MINISTER WITOLD WASZCZYKOWSKI:
"This is bad news for Europe, for Poland ... We will be trying to use this situation to make the European politicians aware why this happened. And it happened because this concept, which was created some time ago, is no longer popular in Europe."