True love never runs smooth, man's new member up to the job, nuclear bunker safe as houses and spirit world or just a spoof? Interesting, red-hot and downright odd anecdotes from around the world in our news review of the week.
Boy impersonates girlfriend to take college test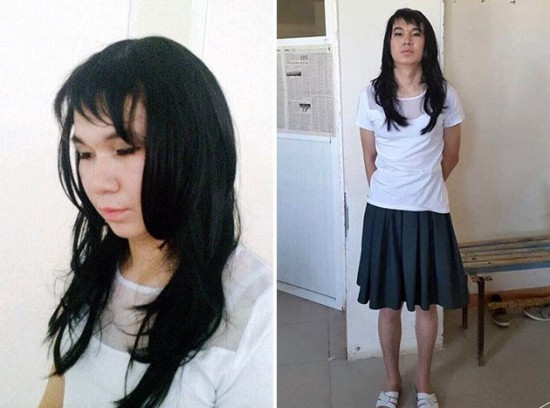 Ayan Zhademov dressed as his girlfriend to take an exam. [Photo/Xinhua]
A 20-year-old Kazakh boy, Ayan Zhademov, proved his love to his girlfriend by dressing up as her to take the national college entrance exam.
The boy decided to take the risk of impersonating his girlfriend after she told him how worried she was.
Wearing a black wig, putting on his girlfriend's blouse and skirt and doing some make-up, Zhademov thought he could fool the examiner but failed. Examiners suspected him because he looked different to the photo on the identity card but they never thought a fake would be a boy.
"He tried speaking in a high voice but it was obvious then that he was a male," a witness said.
Many thought the boy was a hopeless romantic and a local businessman offered to help pay Zhademov's $1,400 fine.