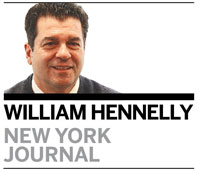 For the 200 or so tourism industry representatives gathering in Los Angeles this week, a slower Chinese economy and lower yuan are not on their minds.
Tourism professionals from both countries are meeting this week through Friday for the ninth annual US-China Leadership Summit at the Hyatt Regency Century Plaza.
Brand USA - the destination marketing organization for the United States - is planning the summit with the China National Tourism Administration (CNTA). The sponsors for this year's event are Visit California and the Los Angeles Tourism & Convention Board (L.A. Tourism).
It also will be the first tourism summit attended by Li Jinzao, chairman of the CNTA.
"One of the panels (at the summit) was focused on China Ready (L.A. Tourism's program that accommodates Chinese tourists)," said Kathy Smits, vice-president of international tourism for the Los Angeles Tourism & Convention Board, who graciously took the time to call China Daily during the event. "We've had tremendous success with China Ready working with hotels, attractions, transportation companies.
"Their (Chinese tourists') must-see, must-do, it is Universal Studios," she said. "It's definitely shopping. We're seeing more of an interest in culture, the Getty Center (which houses the Getty Museum). They've seen a huge rise in the number of Chinese tourists."
Smits said that the NBA's Los Angeles Lakers, "the whole basketball and sports and entertainment in Los Angeles" are a huge draw. "The Clippers are going to be over playing an exhibition game in China in October.
"Based on our market feedback, we are hearing that the slowing Chinese economy and currency devaluation are not causing travelers to change their travel plans, thus we do not expect a significant impact on tourism in the Los Angeles area," she said. "However, we will continue to closely monitor the situation."
In less than a decade, China has become Los Angeles' top overseas tourism market, with Chinese visitors up 523 percent. The home of Hollywood and Universal Studios has had five straight years of double-digit growth in Chinese visitors — widely outpacing every other international market.