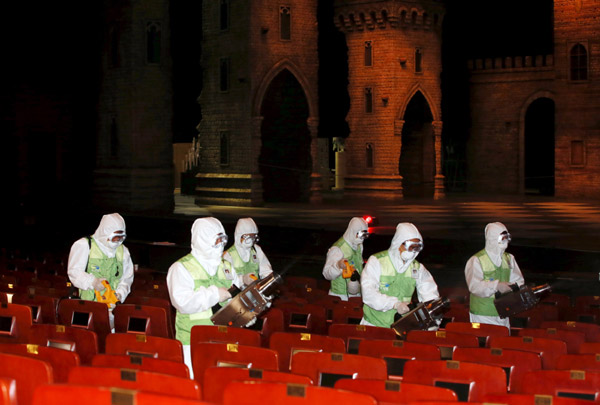 Workers in full protective gear disinfect the interior of a theater at the Sejong Culture Center in central Seoul, South Korea, June 16, 2015. [Photo/Agencies]
GENEVA - Christian Lindmeier, the spokesperson of the World Health Organization (WHO) reaffirmed Tuesday that sustained human-to-human transmission and community transmission of Middle East respiratory syndrome coronavirus (MERS-CoV) in South Korea had not yet been observed.
"The virus has not yet behaved any differently to what has been observed in the Middle East, it is still only spreading in hospital settings and has not fulfilled the conditions of community transmission," he told a press conference at the United Nations office here.
Giving the latest statistics, Lindmeier said that as of Tuesday, South Korea had reported 154 laboratory-confirmed cases, including the one traveler to China, of which 18 had resulted in death.
Asked why the virus had spread so much in Korea, Lindmeier said it appeared to be due to a combination of factors: the delay in detecting the first case due to the symptoms being mistaken for flu, the fact that hospitals and emergency rooms were extremely dense and full, as well as the common practice of large groups visiting sick people in hospital.
He said the recommendations of South Korea and WHO mission would make containment of the virus much easier, but added there would be more incidents.
Regarding the WHO's role in addressing the outbreak, Lindmeier told Xinhua that WHO is not on the ground to treat patients. Instead, the UN health agency is to give the guidelines, evaluate the situation, and make recommendations where authorities can improve situations.
Based on the recommendations by the joint mission of WHO and the Republic of Korea's ministry of health and welfare, Lindmeier said WHO recommended any person suspected to be infected with MERS and who had contact with an infected person, anybody with symptoms of coronavirus should be prevented from travel, both internally and externally, and should be isolated and treated.
WHO on Tuesday held an emergency meeting to address international health regulations concerning MERS-CoV. The meeting,
held by teleconference, provided technical updates on the epidemiology of MERS-CoV and advice on any future actions.
On the same day, a 65-year-old MERS patient passed away at the hospital in German state of Lower Saxony. In Czech Republic, the first patient suspected of being infected with the MERS virus was hospitalized in Prague at Na Bulovce hospital.