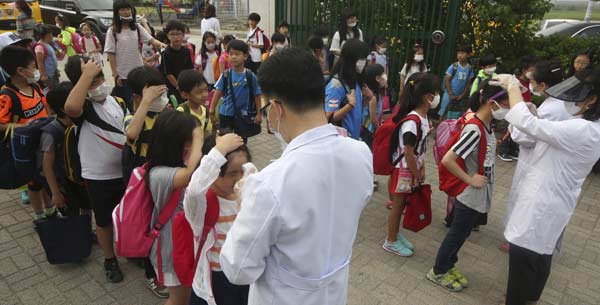 Elementary school students wait in a line to receive a temperature check at a school in Pyeongtaek, South Korea, June 15, 2015. [Photo/Agencies]
SUWON, South Korea - Thousands of South Korean schools that were shut to stop the spread of Middle East Respiratory Syndrome (MERS) reopened on Monday as the country sought to return to normal, nearly four weeks into an outbreak that shows signs of slowing.
Five new cases were reported by the Health Ministry on Monday, taking the total to 150, the largest outbreak outside of Saudi Arabia. The ministry also said another patient infected with the MERS virus had become the 16th fatality.
But the number of new cases was sharply lower than daily rises that reached as high as 23 last week. The World Health Organization (WHO) said on Saturday the decline suggested that control measures were working.
First identified in humans in 2012, MERS is caused by a coronavirus from the same family as the one that triggered China's deadly 2003 outbreak of Severe Acute Respiratory Syndrome (SARS). There is no cure or vaccine.
A hospital in Daejeon, 140 km (87 miles) south of Seoul, stopped taking all new patients on Monday as a precaution after a nurse there was among those diagnosed with the virus, the fifth hospital to have shut down completely or in part.
All of the cases in what the WHO called a "large and complex" outbreak have been traced to healthcare facilities.
At least 440 schools remained closed on Monday, compared with the 2,900 that were shut on Friday.
South Korean President Park Geun-hye, whose approval rating has been battered over the government's response to MERS, urged people to return to normal.
"I ask the business community, too, to continue to go on with investment, production and management activities as normal and particularly help with ensuring that consumers don't hold back from spending money," she told senior aides.