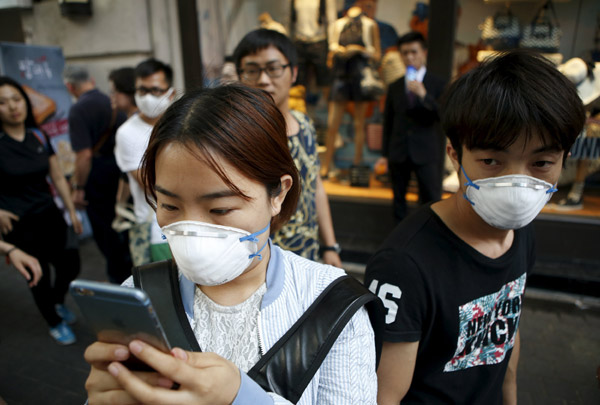 A woman wearing a mask to prevent contracting Middle East Respiratory Syndrome (MERS) uses her mobile phone in central Seoul, South Korea, June 15, 2015. Five new cases were reported by the Health Ministry on Monday, taking the total to 150, the largest outbreak outside of Saudi Arabia. The ministry also said another patient infected with the MERS virus had become the 16th fatality. [Photo/Agencies]
SEOUL - The South Korean Health Ministry on Monday reported two more deaths from the Middle East Respiratory Syndrome (MERS), along with five new cases that have taken the total number of people diagnosed in the country to 150.
According to the ministry, one of the deceased was a 58-year-old who had diabetes and the other was a 61-year-old with unknown medical history. So far, the number of MERS-related deaths in South Korea has reached 16.
Meanwhile, the ministry said that 17 of those 150 diagnosed were currently in unstable condition.
Nearly all infections have occurred at hospitals that had unknowingly treated MERS patients, the ministry said.
South Korea has isolated those who have had close contacts with MERS patients since the first case was found on May 20.
The Prime Minister's Office also announced Monday it will dispatch an inspection team to Samsung Hospital, where over 70 MERS cases emerged in the past weeks.
The hospital, located in southern Seoul, has already suspended part of its services for fear of further spread of the MERS, a respiratory illness first detected in Saudi Arabia in 2012.
The 13-member inspection team will probe into possible human or technical errors in the hospital that caused the outbreak. It will also help experts already deployed there to form a thorough disease control plan.
The city government in Seoul has also provided emergency financial aid to elementary schools and kindergartens to help contain the spread of the MERS.
It has earmarked 400 million won (about $360,000) for building sterilization and 1.5 billion won ($1.35 million) for the purchase of thermometers.
The MERS outbreak has already taken a toll on the country's economy.