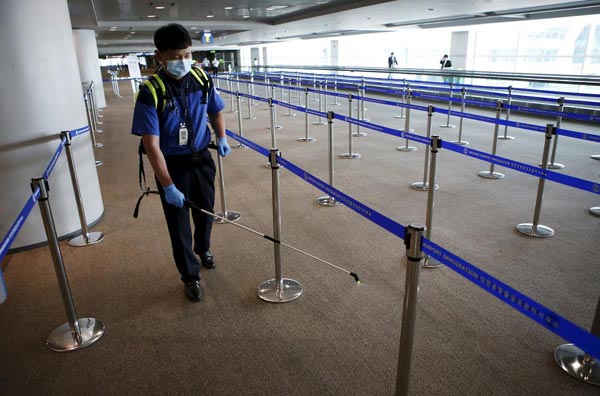 An employee wearing a mask to prevent contracting Middle East Respiratory Syndrome (MERS) disinfects the floor at the Incheon International Airport in Incheon, South Korea, June 14, 2015. [Photo/Agencies]
BEIJING - China increased its alert against the Middle East Respiratory Syndrome (MERS) over the past week, as the country's first patient, a South Korean national, recovers in the hospital.
China is on high alert for MERS following an outbreak that swept the Republic of Korea (ROK) over the past few weeks.
With the approach of the annual pilgrimage of Chinese citizens to Saudi Arabia, where the MERS virus was first discovered, the risk of imported cases cannot be ruled out due to the frequent people exchanges, a circular issued by China's top health authorities said on Friday.
Medical institutions should strengthen monitoring of fever and pneumonia cases with unidentified causes in order to detect, diagnose and isolate MERS patients as soon as possible, said the document.
Provincial capitals and port cities should select hospitals for MERS cases and emergency medical centers should have ambulances meeting requirements for respiratory infectious disease prevention, it added.
The country has updated and improved its 2014 edition of a guideline for diagnosis and treatment of MERS cases.
China's quarantine and inspection, health and tourism authorities renewed a joint circular to prevent MERS cases from entering the country last Tuesday.
The circular requires those from countries or regions with MERS outbreaks to report actively to quarantine and inspection authorities if they are experiencing fever, coughing or having breathing difficulties.
Customs and quarantine inspection departments in China have strengthened coordination and prevention efforts.
At a temperature monitoring area in the Entry-Exit Inspection and Quarantine Bureau of Zhuhai city in Guangdong province, an information board with instructions in Chinese and English was erected to tell those with the above symptoms to report their conditions to authorities.
The bureau has drilled its personnel on MERS knowledge and prevention.