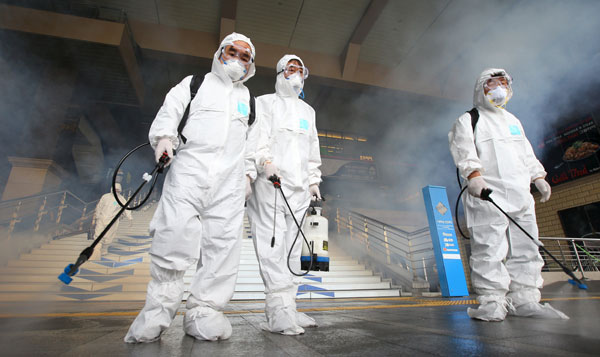 Workers in full protective gear disinfect the floor of a subway station in Seoul, South Korea, June 11, 2015.[Photo/Agencies]
SEOUL - A South Korean man with terminal lung cancer who had been infected with the Middle East Respiratory Syndrome (MERS) virus died on Thursday, South Korea's health ministry said, in the 10th fatality since the country's outbreak began last month.
The 65-year-old man, diagnosed with MERS on June 7, had been hospitalized in the same ward as another patient later diagnosed with MERS, the health ministry said in a statement.
MERS infections in South Korea totaled 122 as of Thursday as 14 new cases were added. The first case was found on May 20.
Meanwhile, three confirmed patients were released from hospitals as they were tested negative twice. The number of hospital discharge increased to seven with the three new discharges.