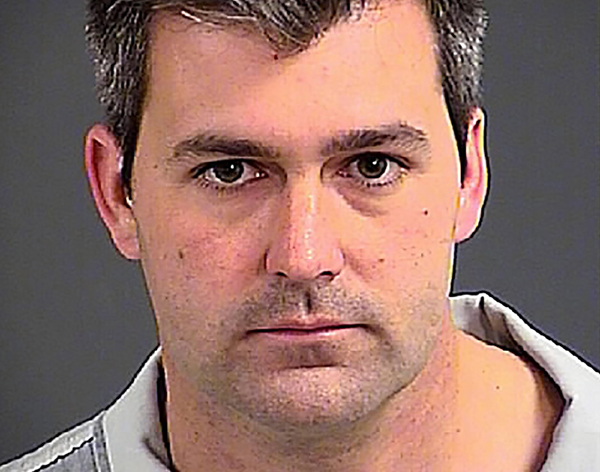 North Charleston police officer Michael Slager is seen in an undated photo released by the Charleston County Sheriff's Office in Charleston Heights, South Carolina. [Photo/Agencies]
WASHINGTON - A grand jury on Monday indicted a white former police officer on a murder charge for fatally shooting a black man earlier April in North Charleston, South Carolina.
Former officer Michael Slager, 33, had been jailed since earlier April after being charged with murdering the 50-year-old black Walter Scott by shooting at Scott's back eight times while Scott was running away from him. The whole process was filmed by a passer-by on his cell phone.
If convicted of murder, Slager would face between 30 years and life in prison without possibility for parole, said Prosecutor Scarlett Wilson, adding that no trial date had been set yet.
Previously, possibility of death penalty was also on the table after prosecutors announced the murder charge against Slager on April 7, the same day the cell phone clip was handed over to authorities. However, Wilson said the death penalty did not apply here since no aggravating factors, such as robbery or kidnapping as required under South Carolina law, existed in the case.
The fatal encounter began on April 4 when Slager, then patrolman in the North Charleston Police Department in South Carolina, stopped Scott's vehicle for a broken taillight. After what first appeared to be routine interaction between a driver and an officer, which was recorded by dashboard camera in Slager's patrol car, Scott fled on foot.
Scott's family later said he ran probably because he feared that outstanding child-support obligations would lead to his arrest.
Once Slager caught up with Scott, the two allegedly got involved in a tussle over Slager's Taser.
As Scott again ran away from Slager, Slager fired eight times towards Scott and killed Scott.
"We're going to patiently wait for the criminal trial in this case," said Chris Stewart, one of the attorneys for the Scott family, in a press conference after the announcement of indictment. "We're going to continue to do that until the resolution of the criminal and the civil case."
Given the prerogatives police officers are endowed with in the country, whether Slager will finally be convicted of murder charge is far from certain.
According to an analysis report by the US daily The Washington Post and researchers at Bowling Green State University in April, only 54 officers have been charged among the thousands of fatal shootings at the hands of police since 2005.
No database of police-involved deadly shooting exists since the U.S. Federal Bureau of Investigation does not require police department nationwide to report office shootings.
"...even in these most extreme instances, the majority of the officers whose cases have been resolved have not been convicted," said The Post analysis.