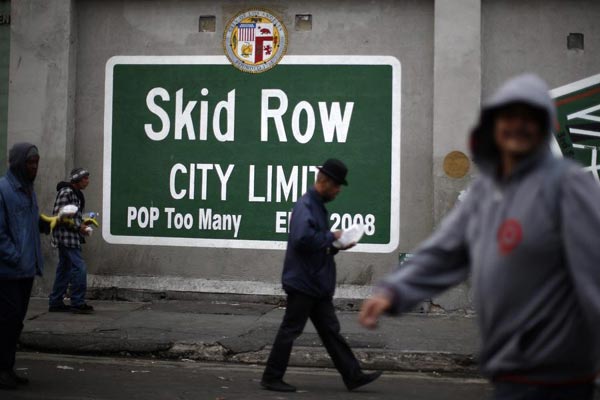 People walk on skid row in Los Angeles, California, March 2, 2015. [Photo/Agencies]
LOS ANGELES - A homeless man whose fatal shooting by Los Angeles police stirred an uproar among civil rights activists and fellow skid row residents was a convicted bank robber paroled from federal prison last year, according to a law-enforcement source and records.
Authorities have yet to publicly name the man they say was shot to death on Sunday when he grabbed for an officer's holstered gun during a scuffle as police sought to take him into custody as a suspect in a reported robbery.
But a law-enforcement source told Reuters that the Los Angeles Times had correctly identified him as Charley Saturmin Robinet, a 39-year-old French national who had served time for a bank robbery conviction.
The Times reported that Robinet, accused of pistol-whipping a teller during a 2000 bank holdup north of Los Angeles, told investigators at the time that he robbed the bank to cover the cost of acting classes at the Beverly Hills Playhouse.
An account the newspaper published about the case at the time ran with the cheeky headline: "Robber Won't Be Stealing the Show Any Time Soon."
Federal prison and court records examined by Reuters show Robinet was sentenced to 15 years in prison and was freed from a federal halfway house in May under a three-year supervised-release order.
Sunday's fatal shooting, which is under investigation, marked the latest in a string of incidents that have put law-enforcement agencies across the country under heightened scrutiny over the use of lethal force, especially against minorities, the poor and the mentally ill.