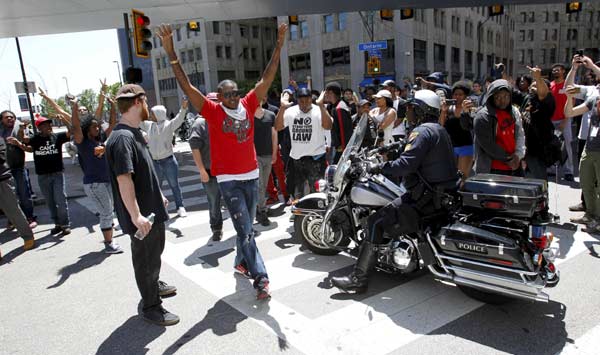 Protestors gather in a downtown intersection as a Cleveland Police officers block them from an RTA bus following the not guilty verdict for Cleveland police officer Michael Brelo on manslaughter charges in Cleveland, Ohio, May 23, 2015. [Photo/Agencies]
According to an article published in The Washington Post on Sunday, the number of people shot dead by police in the United States in the first five months of this year was 385; more than two such deaths per day.
However, only three police officers were prosecuted during this period, less than 1 percent of those involved. Such figures testify to the fact that the public in the US, especially those from minorities, face "excessive law enforcement" in their daily lives.
Behind the cold figures, African-Americans or Hispanics are killed at disproportionate rates. The Post noted that while most of the people killed were armed with potentially lethal objects mainly guns, but also knives and other items-16 percent were carrying a toy or were unarmed, and among the unarmed victims, two thirds were black or Hispanic.
Despite so many cases involving the abuse of power by police, the US authorities, however, seem disinclined to change anything. There have been 168 recorded deadly incidents involving police shooting in Broward, south Florida, since the 1980s, but no lawsuit has been filed against the police. The attorneys of some victims' families have claimed that evidence, including surveillance video footage, was destroyed.
The long-accumulated social contradictions and numerous flaws in the system have caused the safety dilemma in the US to spiral out of control. The increasing number of cases involving police shootings of unarmed individuals is only one facet of the US' broad social problems, which also include the widening rich-poor gap and prejudice against people of foreign descent.
People cannot help but wonder why the self-proclaimed defender of "human rights" around the world is unable to protect the mat home.
While pointing fingers at other countries' human rights records, the US should face squarely its own human rights abuses and take practical measures to correct them.
The above is an abridgement of a People's Daily article published on Tuesday.