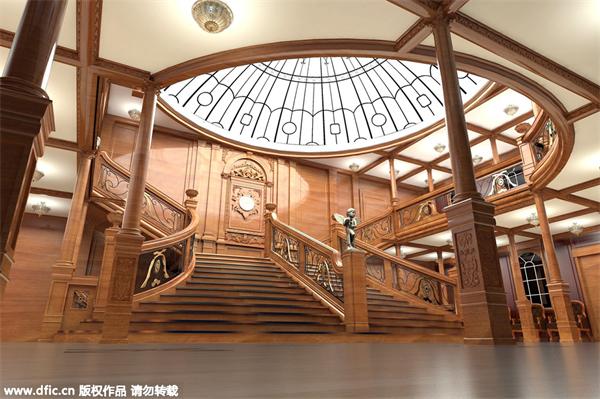 This Artist rendition shows an interior view of a hall in a full-scale replica of the Titanic ocean liner built by Seven Star Energy Investment Group. [Photo/IC]
The construction of a life-size replica of the Titanic, the passenger ship that famously sank in 1912, will boost local tourism and employment, says an article in the Huaxi Metropolis Daily.
Assembling the Titanic replica recently started. The whole project is expected to be finished in August 2017 and the luxury liner is scheduled to open to visitors in October 2017.
The replica sparked bitter controversy over whether it is a waste of money after the plan mistakenly revealed that Wuchang Shipbuilding Industry Group Corp, a Chinese State-run shipbuilder, would undertake the more than one billion yuan ($161.3 million) project.
A later report clarified that it was the Seven Star Energy Investment Group, a Sichuan-based private company, that invested the money.
Su Shaojun, chairman of Seven Star, said that the ship replica would create thousands of jobs and boost local tourism industry. After finishing the project, it will attract visitors all over the world.
Sun also added that he wanted, through the reconstruction - to share and spread the spirit of the Titanic -love and self-sacrifice.