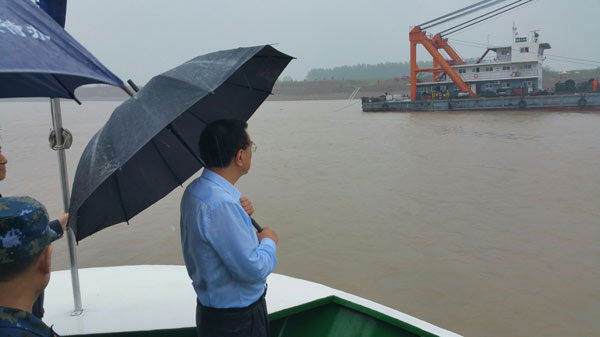 At around 9:00 am Wednesday, Premier Li Keqiang again came to the site on a vessel and supervised the operation. [Provided to chinadaily.com.cn]
While efforts continue to find any survivors on the ship that capsized in the Yangtze River near Jianli county in Central China's Hubei province on Monday, there has been much discussion and speculation about what caused the accident and how to prevent another tragedy. Comments:
Reports say that a severe storm on the Yangtze River was a major cause of the tragedy. China needs a better weather forecast system. In the United States, there are 158 WSR-88D radars in service, of which 42 can transmit real time data to the US National Weather Service, thus it is possible to send a warning 16 minutes before a tornado hits. China might not need so many radars but it needs better equipment, because every life is precious.
Zhang Tiankan, deputy editor-in-chief of Encyclopedia Magazine, June 3
It has been reported that the captain of another ship following the same route as the Eastern Star decided to stay an extra night in port instead of travelling on because of the bad weather. But there is no evidence to show that the owners of the Eastern Star ordered it to continue its journey in such weather.
scol.com.cn, June 3
A safe maritime trip needs both hardware and software: The former refers to a sound vessel while the latter means a good, experienced captain and crew that know what to do in an emergency. Only the two combined can guarantee maritime safety.
Cai Cunqiang, a professor at Shanghai Maritime University, June 2
Considering the nature of the accident, the number of casualties is likely to be high. Currently the most urgent job is to save everyone that can be saved and prevent the number of casualties from rising. However, that does not mean identification of responsibility is not important - after the rescue efforts are finished and the evidence collected, a thorough investigation needs to be conducted to establish the cause of the accident to prevent any more.
ifeng TV, June 1