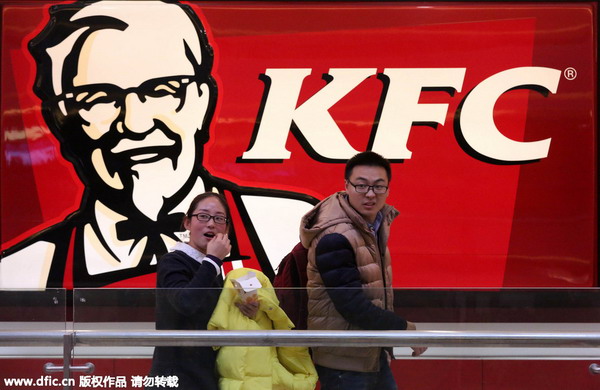 People walk past a fastfood restaurant of KFC in Huaian city, East China's Jiangsu province, Feb 14, 2015. [Photo / IC]
KFC, a fast food chain under the United States-based Yum Brands Inc, confirmed on Monday that it has filed lawsuits against 10 public online accounts of three Chinese companies that allegedly "spread rumors" about its food quality. It said that by the end of April, there were more than 4,000 postings defaming KFC on a number of WeChat accounts, which have been viewed by over 100,000 users. It asked for not only an immediate halt to the online comments and an apology, but also a total sum of 3.5 million yuan ($564,500) in compensation from the three defendants. Comments:
KFC's plea for its legitimate rights and interests should be adopted as a routine practice in a society featuring the rule of law, to properly manage the market-oriented economy. Also, all netizens must make sure their online posts on social networks do not violate the law. To be specific, they should distinguish truths from rumors and not repost fabrications.
China Youth Daily, June 3
If more companies stand up to defend their legal rights as KFC has done, those online rumormongers who manipulate information to cause instant sensation or even rake in illegal profits are less likely to get their way.
Xinhua Daily Telegraph, June 3
Undoubtedly, by suing the 10 online rumor generators of the three Chinese companies, KFC has stood up for legal rights protection in the country. Should the case be judged in a fair and unbiased manner, it will serve as a wake-up call to all who engage in online misdeeds such as copyright infringement and rumor-mongering. In addition, specific regulations to address online rumors should be included in the law, thus preventing false and disturbing information from spreading.
rednet.com, June 3