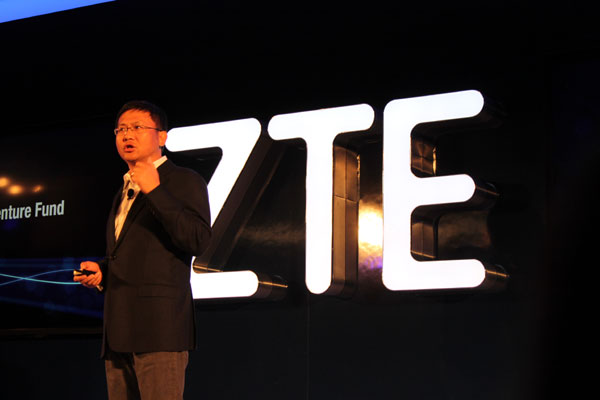 Cheng Lixin, CEO and Chairman of ZTE USA, talks to a packed auditorium on Jan 5,2015 announcing his company's expansion and development plan in the US. Boasting 20 million US users for its smartphones, ZTE USA is the second largest industry player of its kind in the US market. [Photo by Chang Jun/China Daily]
The nation's tech companies are again making a mark at the International Consumer Electronics Show, which opened on Tuesday in Las Vegas.
Hundreds of Chinese exhibitors from provinces such as Guangdong and Zhejiang are a major presence at the globe's most popular gadget fair, where they aim to show the world how their products will define the future of entertainment and communications.
Industry leaders such as ZTE Corp, Lenovo Group Ltd and Huawei Technologies Co Ltd are all making their usual appearance at this year's CES, but many smaller vendors are also showing off their wares.
A list of exhibitors for this year's event shows at least 550 companies from China are attending the event. About 470 are from Shenzhen, Guangdong province, with another 50 or so from Zhejiang province.
Most of the Chinese exhibitors are supply chain providers for mobile devices, such as makers of batteries, cameras or electronic components, according to the list. The majority of the companies have booked one standard exhibition stand where they will welcome potential customers. The main hall has about 4,000 similar stands.
Top-tier companies, on the other hand, will have their own separate events during the fair.
During a press day for the CES, Chinese companies such as TCL Corp, Hisense Group and ZTE showcased their latest technologies and new products.
The Consumer Electronics Association expects annual growth of 15 percent in the household-entertainment industry, especially in the augmented and virtual reality areas, through 2018.
TCL Multimedia, based in Huizhou, Guangdong, unveiled new products, including a 110-inch ultra high-definition television with a curved screen, the largest such model in the world.
According to E Hao, its CEO, the company's TV strategy for 2015 will center on interactive features such as media sharing and smart remote controls.
For Hisense, based in Qingdao, Shandong province, CES is a platform to show off its VIDAA 100-inch laser projector-enabled cinema TV.