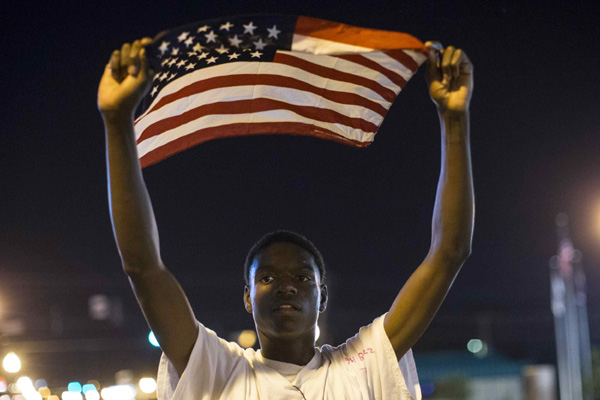 Protester Joshua Wilson marches in front of the police department during a rally in Ferguson, Missouri September 26, 2014. [Photo/Agencies]
CHICAGO - A Ferguson Police officer was shot in the arm on Saturday night, local media reported.
The incident occurred just one day after the Ferguson Police Chief apologized for the way the department handled the investigation of the shooting of unarmed 18-year-old Michael Brown, which led to weeks of protests and violence in Ferguson, Missouri.
Local media reports said the shooting on Saturday occurred near the local gas station that was looted and burned down within the first couple nights of the protest.
Various sources at the scene told Xinhua that the suspect is still on the loose while video of the scene shows a quiet but tense atmosphere. Local KMOV reporter Matt Sczesny reported that he observed many different police agencies from surrounding neighborhoods responding to the location.