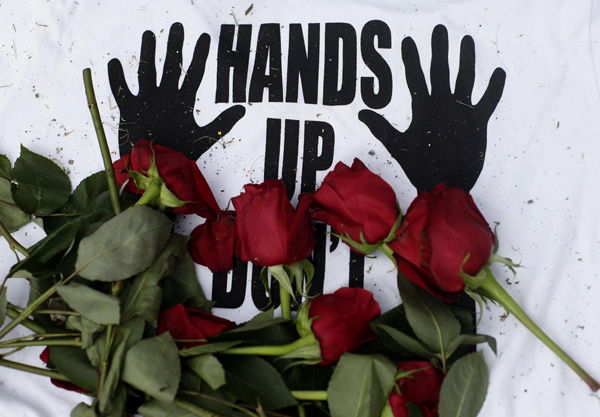 Roses rest on a t-shirt at a makeshift memorial for Michael Brown in Ferguson, Missouri August 19, 2014. [Photo/Agencies]
ST. LOUIS, United States - Police shot and killed a 23-year-old black male in the northern part of St. Louis, Missouri on Tuesday, just 10 km from and ten days after the shooting of 18-year-old Michael Brown in Ferguson, Missouri.
Police say he pulled a knife on them after taking energy drinks and sweet treats from a nearby convenience store.
Police Chief Sam Dotson told reporters the officers ordered the 23-year-old man to drop the knife and drew their weapons after he refused. He said the youth told officers, "Shoot me now. Kill me now."
Approximately 100 people were gathered to protest at the site of the shooting nearly three hours after the incident occurred.
Carmen, 69, was at the protest. "Whatever happened did not require two police officers to shoot six times. He was mentally challenged, everyone knew he was mentally challenged, if you didn't know him, you could look at him and tell he was mentally challenged," she said.
Monique Peete was in her house when she heard shots. "Shooting, a lot of shooting, in the daytime in this area, yes. When I did come down, the baby was lying in the middle of the street," she told Xinhua.
"I know this young man, he stands in front of this store and sells his CDs, I have given him money before, I have fed him before, he's not a bad person."
Sheff Pugg, another area resident, also heard the shots. "I was a devastated man to see another one get killed. Less than ten days. They are protesting right on in Ferguson. This gonna be another protest site. It's not fair to keep killing our young kids."
Many reporters that are present to cover Michael Brown incident have shown up at the scene.