Stories about Chinese queuing up for iPhone 6 outside stores in major cities from the US to Europe have filled the news these days, but such a craze is surely not related to any patriotism, such as the fact that the cool smartphone is assembled in China.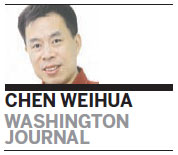 The iPhone is designed in California and assembled in China as Apple claims on the packaging. The real picture is far more complex, it is simply a product of globalization in the modern world. Namely, dozens of countries participate in the iPhone supply chain, from companies on the Chinese mainland, Taiwan, US, Japan, South Korea, Vietnam, Germany and Israel to Brazil, Costa Rica and Malta.
And the Chinese mainland is actually a small contributor in terms of value, reported to be to less than $10 from each iPhone. It is a story cited repeatedly by former Chinese Premier Wen Jiabao on different occasions to explain why the US trade deficit with China is so misleading "because each iPhone sold in the US adds $200 to the US trade deficit with China" according to a report by three US economists at the University of California and Syracuse University.
While comparative advantage is a subject for Econ 101, some in the US continue to ask why iPhones are not assembled in the US, since it may only add several dollars per unit to the cost.
A New York Times article from two years ago answered the question well. No single US city could provide a quarter of a million workers just to assemble iPhones like in China.
Such a question underlines a growing phenomenon in the US that Made in USA is being used as a marketing tool to cash in on Americans' strong patriotic sentiment.
Just two years ago, ABC News anchor Diane Sawyer put out a list of Made in USA products and stores in everything from clothing and stationery to sporting goods and furniture and asked people to add more.
Her series of Made in America reports then, with a strong sense of inciting patriotism, was also a reflection of a growing protectionist sentiment that Americans should buy more goods made by their countrymen, if not to also shun products from abroad.
Under such a sentiment, Walmart, the gigantic retailer long criticized for outsourcing goods abroad, now has a Made in America section. Walmart has recently announced it would buy $250 billion in US-made goods over the next decade, with the potential to create hundreds of thousands American jobs in manufacturing and service industries. Its website is filled with stories about how Walmart is making an effort to bring back American jobs.
With this year's holiday season around the corner, some Americans have started to tout Made in USA holiday gifts and toys to further arouse Americans' patriotism. Of course, there aren't many such goods out there.
Cashing in on such sentiment has also become political. Two years ago at the London Olympic Games, Senate Majority Leader Harry Reid made a big fuss about the US Olympic Team wearing uniforms not made in USA but China. And about the same time, US soldier Steve Adachi refused to wear Made in China boots out of his patriotism and made national headlines. The soldier was praised as a hero and patriot.
Few Americans, however, have asked how the footwear industry can survive in the US today where labor costs are many times higher than in China. Even Chinese footwear manufacturers are relocating to lower cost destinations, such as Ethiopia and Vietnam, due to the rising cost of labor in China.
While some Americans are trying to develop a Made in USA cult, the sentiment among Chinese consumers is totally different.
The increasing number of Chinese shoppers in the US and Europe are often surprised to find that many of the luxury goods they are purchasing carry Made in China labels as China moves up in the global supply chain.
But instead of patronizing those Made in China quality goods, many opt to look for goods not made in China but in India, Vietnam, Bangladesh and Honduras, where the manufacturing quality is usually lower than in China. To some, it simply does not make sense to bring back to China goods that were made in China.
While the lack of confidence among Chinese consumers about the quality of Made in China goods might be part of the reason, it also reflects the fact that Chinese consumers don't really associate the goods they buy on a daily basis with patriotism. There is no campaign in China to press consumers to buy Made in China or companies to manufacture in China.
While Americans' nostalgia with everything Made in America might linger, Chinese may start to learn the fresh new face of Made in China.
Contact the writer at chenweihua@chinadailyusa.com.