Protests calm down in Ferguson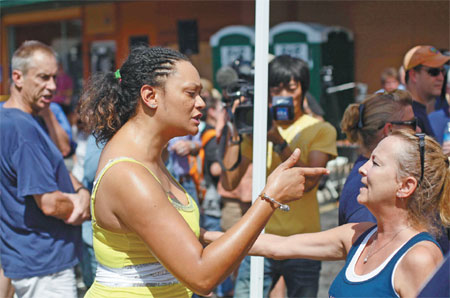 A woman confronts demonstrators supporting Ferguson Police officer Darren Wilson during a rally in St. Louis, Missouri, on Saturday. Demonstrators in Ferguson, Missouri, gathered to mark two weeks since Wilson shot dead an unarmed black teenager. Joshua Lott / Reuters
Two weeks after a white policeman shot and killed an unarmed black teenager in Ferguson, Missouri, smaller, quieter street protests prevailed on the weekend, while supporters of the officer rallied separately and called the shooting justified.
Saturday marked the fourth night of relative calm for the St. Louis suburb following nightly spasms of unrest since Michael Brown, 18, was shot by Ferguson police officer Darren Wilson on Aug 9. The area's main street was open to traffic, and police presence was down sharply from just 24 hours earlier.
Shortly before midnight, police arrested three people, leading to some tension that soon abated.
For well over a week, authorities had arrested dozens nightly in clashes with demonstrators, drawing attention to often-troubled US race relations. Police were criticized for mass arrests and use of heavy-handed tactics and military gear, which was widely seen as stoking an already volatile situation.
US President Barack Obama has ordered a review of the distribution of military hardware to state and local police, a senior administration official said on Saturday.
The White House also announced that three presidential aides will attend Brown's funeral on Monday.
Early on Saturday, about 70 people marked the two weeks since Brown's death at a makeshift memorial where he was shot.
Tracey Stewart-Parks, 52, who works for a healthcare firm, carried a sign that read "Mike Brown was someone's son - I walk for their son." She said something similar could have happened to any of her four sons.
"All of them have had to learn the rules of driving black," she said. "This has been a long time coming. ... It's time to rip the Band-Aid off this old wound. It's time for change."
In the afternoon, about 500 people braved temperatures of about 40 degrees C to march in a St. Louis County rally, joined by Missouri Highway Patrol Captain Ron Johnson, commander of the police response to the demonstrations, who is black, and St. Louis County Police Chief Jon Belmar, who is white.
About 22 km away in St. Louis, dozens of Wilson's supporters gathered at Barney's Sports Pub to raise money for his family.
"We are here to support you, Officer Wilson, and we've got your back. He has been vilified in the news, but his story is coming out," said St. Louis resident Mark Rodebaugh.
A statement from rally organizers said, "Our mission is to formally declare that we share the united belief that Officer Wilson's actions on Aug 9 were warranted and justified."
Despite the calm of recent nights, Derrick Rhodes, 45, who owns the Country Girl Pie House in St. Louis, remained wary, saying "It all depends on the verdict of the officer."