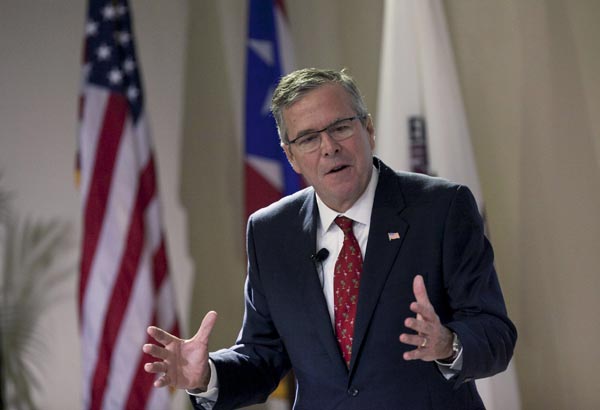 Former Florida Governor and probable 2016 Republican presidential candidate Jeb Bush addresses the audience during the event "Economic opportunity: The right to excel" in San Juan, April 28, 2015. [Photo/Agencies]
WASHINGTON - Two political outsiders have expanded the Republican field of White House hopefuls as former technology executive Carly Fiorina announced she's running for the US president and retired neurosurgeon Ben Carson launched his bid as well on Monday. Fiorina is likely to be the only prominent woman to seek the party's nomination, with Carson the only likely African-American.
Both Fiorina and Carson have the potential to help the Republican win over a more diverse group of supporters in 2016.
Both candidates begin the race as underdogs in a campaign expected to feature several seasoned politicians, among them former Florida Gov. Jeb Bush, Wisconsin Gov. Scott Walker, along with Florida Sen. Marco Rubio and Texas Sen. Ted Cruz. Yet while those prospects have claimed much of the early attention and favor from donors, the Republican race is a wide-open contest that could ultimately feature as many as two dozen major candidates.
The Republican field is already more diverse than it was four years ago. Fiorina and Carson will compete against Republican counterparts Rubio and Cruz, each vying to become the first Hispanic president. And most of the candidates are in their 40s and 50s.
Still, the Republican National Committee has acknowledged a pressing need to broaden the party's appeal beyond its traditional base of older, white men. US President Barack Obama won re-election in 2012 with the strong support of women and ethnic minorities, who are becoming a larger portion of the American electorate.