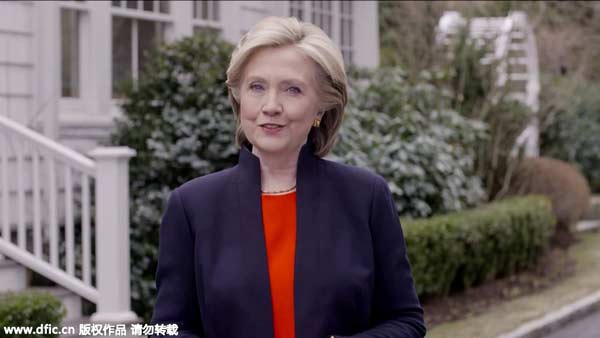 Video grab of Hillary Rodham Clinton announcing that she would seek the presidency for a second time, immediately establishing herself as the likely 2016 Democratic nominee, in Washington, DC, USA on April 12, 2015. [Photo/IC]
Hillary Clinton has officially announced her decision to run in the 2016 presidential election, which has aroused heated discussions not just in the United States but around the world. Comments:
A strong female politician, Clinton has gained fame and position with her political ability and she is considered the most experienced and best prepared candidate so far for the 2016 US election. However, US citizens might still consider her gender and her age before deciding whether to vote for her. Will they accept a 68-year-old female president in the White House? The idea of a middle-aged male president is still deeply rooted in many US citizens' minds; is it easy to change?
Sun Xingjie, a professor of international relations at Jilin University, April 14
During his eight years in office, US President Barack Obama has maintained a relatively radical liberal style, as shown by moves such as the bailouts, medical care reform and his support of gay marriages; as a result, radical Republicans have responded fiercely and the Tea Party has risen in the US Congress. Traditionally depicted as a middle-of-the-road Democrat, Clinton faces pressure from both extremes.
Yu Wanli, a senior expert on China-US relations, April 13
Watch the video of Clinton and you will see her strong personal style: she is good at grand narratives and delivering official speeches, which she has learned from her political experiences. However, she needs to learn to chat with the voters and let them know she is hearing them and she cares for them. That way of talking might be hard for her, but she needs it because upon it hangs her political future.
Beijing News, April 14