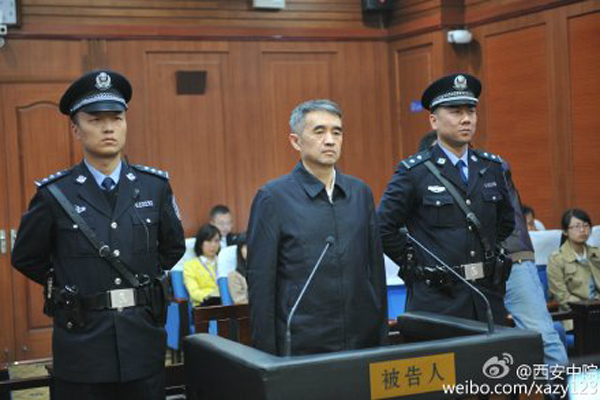 Liao Shaohua stood on trial at Xi'an Intermediate People's court in Xi'an, capital of Northwest China's Shaanxi province, for alleged bribery and abuse of power, on Jan 22, 2015.[Photo/Weibo]
Liao Shaohua , former Party chief of Zunyi, Guizhou province, Southwest China, was recently put on trial for suspected corruption. A photo of his in court aroused nationwide attention because it shows a grey-haired desperate man, in contrast to his photo that used to be on the government website, which portrayed him as fat and energetic. Netizens posted similar photos of other officials before and after they were brought to court. Comments:
Corrupt officials are always energetic before being hunted because they thought privileges would cover their illegal deeds and protect them. They are desperate when being brought to court because they know they will lose their power and every privilege that comes with it. Under the current bureaucratic system, an official loses his or her own personality and becomes simply a puppet of power. This not only harms the people's interests by creating a group of privileged officials, it also ruins the officials themselves.
Lanzhou Evening News, April 14
It is a thoughtful deed to post and compare the photos of corrupt officials brought to trial, but people should not treat these fallen officials as entertainment, because they have not only caused huge economic losses, but also created social injustice and enlarged the wealth gap. Do not forget what crimes they have committed; they deserve to look desperate today.
cnhubei.com, April 13
Is it possible that some corrupt officials intentionally appear desperate to gain the public's sympathy? They have many similar tricks, like writing letters of regret to the Party after being sent to court, so as to get a lighter penalty. We hope the judges are not deceived by such performances and give them the punishment they deserve.
rednet.cn, April 13