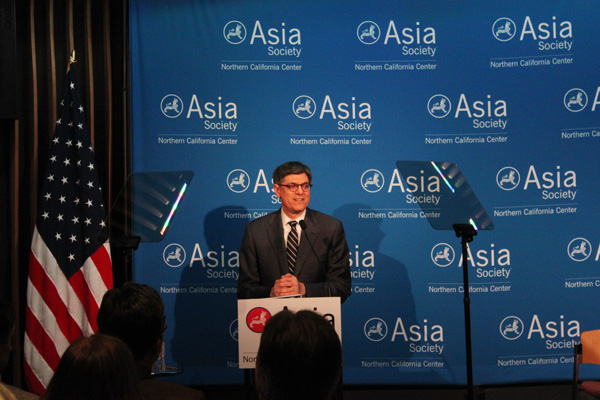 The US Treasury Secretary Jacob Lew speaks at a meeting held on March 31 in San Francisco after returning from a two-day visit to Beijing. The meeting is held by Asia Society, a nonprofit organization dedicated to educating the world about Asia and attended by around 100 business representatives in the Bay Area. LIA ZHU/CHINA DAILY
Will the United States revert to protectionist policies to perpetuate its hegemony or stick to the principle of free trade at the risk of suffering relative decline?
This is the question Nial Ferguson asks in the introduction to his book, Colossus: The Rise and Fall of the American Empire. If the function of the US as the sole superpower is to underwrite a liberal international commercial and financial system, as Ferguson quotes Paul Kennedy as saying, it indeed has a lot of importance for China, the world's second-largest economy.
Whether China can overtake the US as the largest economy in the near future, therefore, becomes a worrying question for many Americans, concerned as they are about the possibility of the US losing its status as the world's strongest power. With such worries comes the "China threat" fallacy, which has been combined with the conspiracy theory to paint a picture of how China's rise poses a threat to the security of the US and the world at large.
In recent days, we have been bombarded with another theory, the "China collapse" fallacy, which forecasts China's disintegration before it can overtake the US as the largest economy.
Looking back at the trajectory of China-US relations, we can see the stark contrast between how the two countries felt and feel about each other. In the 1970s, when ties were being renewed as dictated by geopolitical needs and the mutual advances by the two sides led to the establishment of formal diplomatic relations in 1979, the US and its people were more or less in the good books of the Chinese people and vice-versa.