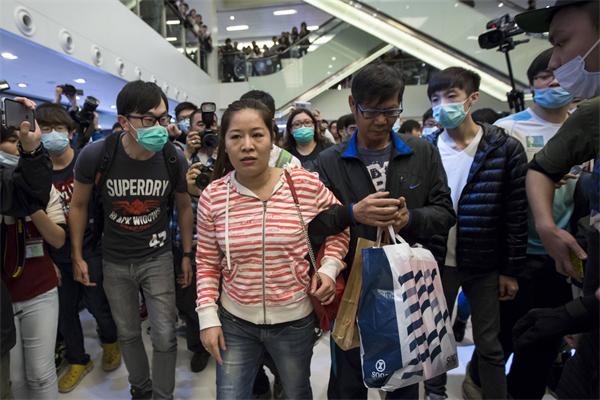 Protesters wearing masks shout at mainland Chinese travellers (C) during a demonstration inside a shopping mall in Hong Kong February 15, 2015. Anti-mainland Chinese demonstrators on Sunday protested against parallel traders and confronted police, government radio reported. [Photo/Agencies]
The latest data show an 8.7 percent decline in the number of tourists who visited Hong Kong in March compared with last year, among which, those from the mainland have dropped by over 10 percent, which might further hit the local economy. At the same time, the number of mainland tourists who travel overseas via Hong Kong has increased 31 percent. The drop in visitors has been blamed on protestors who claim to be against parallel traders from the mainland, which has driven many tourists away. Comments:
Chan Kwok-ki, director of the Immigration Department of Hong Kong SAR government, said that the protests had not prevented the activities of parallel traders; instead, they had driven tourists away. The illegal activity of purchasing cheap goods in Hong Kong and selling them in the mainland cannot be stopped by illegal means. It is better to let the immigration department decide which visitors have committed a wrong and refuse their entry.
Ta Kung Pao, April 9
Ocean Park in Hong Kong has seen a 30 percent decline in tourists this March compared with the same month last year. If the protests against parallel trading continues, tourism in Hong Kong will enter a cold winter.
china.com.cn, quoting Yiu Si-wing, member of Legislative Council of Hong Kong, April 9
Joseph Tung, executive director of the Travel Industry Council of Hong Kong, said the protests against parallel traders have dealt a heavy blow to Hong Kong tourism. It will take a long time for Hong Kong to change its negative image among tourists. He hopes that the protests against parallel traders will not be repeated, so as to avoid ruining the image of Hong Kong.
xinhuanet.com, April 8