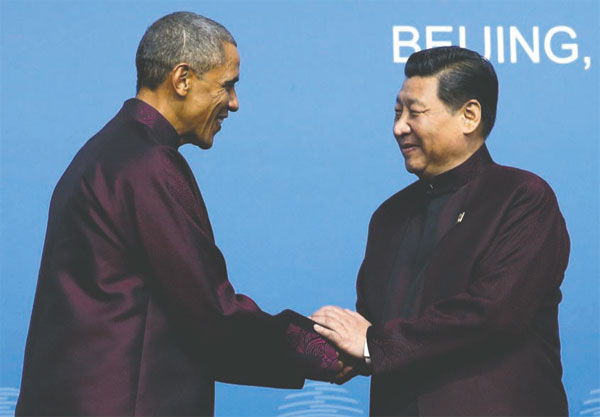 Chinese President Xi Jinping shakes hands with US President Barack Obama during the APEC Welcome Banquet at the Beijing National Aquatics Center, or the Water Cube, in Beijing on Nov 10, 2014. Kim Kyung-Hoon / Reuters
I didn't realize I would be missed so much so soon after leaving Washington for my home in Shanghai for holidays. Just hours after landing in Shanghai on April 2, a fellow journalist sent me a message via instant messaging service WeChat, saying David Shambaugh mentioned my name multiple times that day during his talk at George Washington University.
The talk, which I listened to days later on the Internet, was largely a crisis management for his March 7 article in The Wall Street Journal titled "The Coming Chinese Crackup", in which he declared the "endgame of the Communist rule" in China had begun.
Compared with his much criticized one-sided views in the WSJ, Shambaugh was a bit more balanced on April 2 despite his continued pessimism in China's future and his prediction that the Communist rule would end 20 years from now.
Yet the 10 challenges facing China according to Shambaugh in his talk - China at the Crossroads - are nothing new. From economic reforms, corruption to income inequality, they have been mentioned in the annual Government Work Report for years. Just a month ago, Premier Li Keqiang presented a far more comprehensive outline of the challenges in his report. Even a Beijing cab driver could elaborate some of the challenges facing the country.
The good thing, as Shambaugh admitted this time, is that top leaders are aware of these problems and taking steps to address them. But who would be naive enough to assume that a large developing country, with a population four times that of the United States and per capita GDP ranking around 90th in the world, will be free of big challenges anytime soon?
Shambaugh defended his WSJ article by blaming the newspaper for giving it a sensational headline. He said his article should be judged by its content, not title. But most people who have read his article would not endorse his conclusion based merely on random and superficial evidence. And among those people are some of the sharpest critics of China in US think tanks.