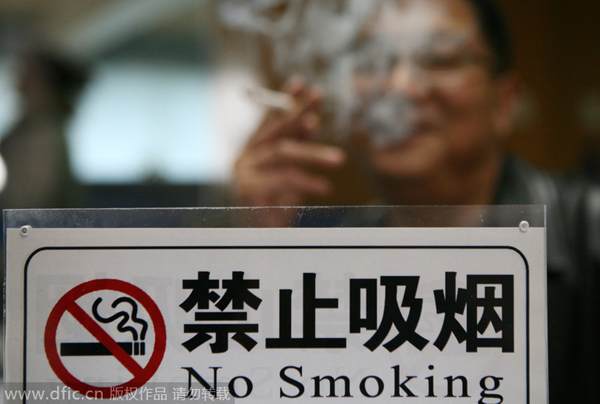 A man smokes a cigarette near a no-smoking sign in Huai'an, Jiangsu province, on Nov 25, 2014.[Photo/IC]
Beijing has issued a tobacco control regulation that will come into effect on June 1. The authorities have also listed three gestures available for residents to persuade somebody nearby to stop smoking. Comments:
Authorities nationwide have issued many tobacco control regulations but seldom have they punished anybody for breaking them; for lack of enforcement these regulations are no longer trusted. Why not learn from the lessons in the Hong Kong Special Administrative Region? When the tobacco control office gets a complaint, it will investigate the case following strict procedures and punish the lawbreaker if his or her illegal deed is confirmed. They will also strengthen supervision over the building where the illegal smoking occurred. It is strict implementation of law that has enabled Hong Kong to successfully control tobacco use.
China Youth Daily, April 14
Authorities boast it is "the strictest tobacco control regulation in history", but why do they invent the gesture? Ordinary residents are not law enforcers; when they try to tell smokers it is illegal to smoke indoors they will simply be ignored. The authorities need to intervene and punish those who break the tobacco control regulation by smoking indoors, instead of passing the buck to the public. They should do something to justify the taxpayers' money they receive.
gwm.cn, April 14
Persuasion from residents and penalties from the authorities will only stop smoking on site. In order to reduce tobacco use in the long run, the State needs to cut the production of tobacco, which is under its monopoly. It is also advisable to increase tobacco tax so that it costs more to smoke.
people.com.cn, April 13
It is ironic that while one government department issues a tobacco ban, another department wants to make profit from its monopoly over tobacco sales. Local governments still retain a monopoly over the sale of tobacco and rely on it as an essential source of revenue. As long as this state of affairs continues, the tobacco control regulations will be ineffective.
hinews.cn, April 14