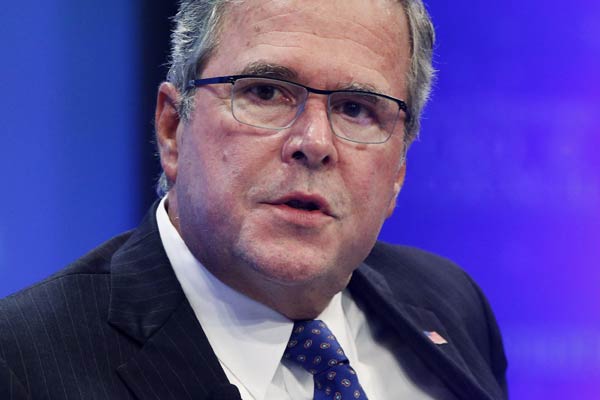 Former Florida governor Jeb Bush (R-FL) addresses the Wall Street Journal CEO Council in Washington December 1, 2014. [Photo/Agencies]
WASHINGTON/HOUSTON -- Former Florida Governor Jeb Bush on Tuesday announced that he has decided to "actively explore the possibility of running for President of the Unites States" in the 2016 election.
In a holiday message posted on Bush's Facebook page, the son and brother of the 41st and 43rd US presidents said he discussed the future of his country and a potential bid for the White House with members of his family over the recent Thanksgiving holiday gathering. The announcement is also available on his Twitter account.
"As a result of these conversations and thoughtful consideration of the kind of strong leadership I think America needs, I have decided to actively explore the possibility of running for President of the United States," Bush wrote.
He also said that he would establish a leadership political action committee in January, which is said "to support leaders, ideas and policies that will expand opportunity and prosperity for all Americans."
"In the coming months, I hope to visit with many of you and have a conversation about restoring the promise of America," he went on to say.
The 61-year-old Bush is the son of former President George H.W. Bush and the brother of former President George W. Bush. He served as governor of the US state of Florida between 1999 and 2007.
Some local media reports, however, quoted his close aides by saying that Jeb Bush still has not made a "final decision" on whether to run, but he'll announce his decision in 2015 after gauging support for a run.