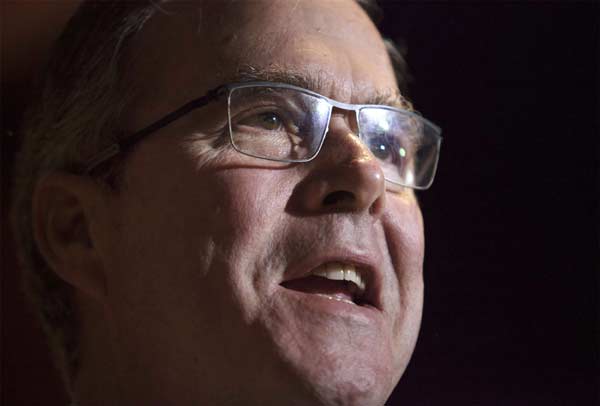 Probable 2016 Republican US presidential candidate and former Florida Governor Jeb Bush speaks at a Horry County Republican Party breakfast at Rioz Brazilian Steakhouse in Myrtle Beach, South Carolina March 18, 2015. [Photo/Agencies]
WASHINGTON -- Jeb Bush topped other potential US presidential candidates within the Republican Party (GOP) in a CNN/ORC poll released Wednesday, but he needs to broaden his base of supporters if he hopes to clinch the GOP nomination, experts said.
The former Florida governor led the poll on 2016 GOP presidential hopefuls, beating out former Arkansas governor Mike Huckabee, who dropped six points from last month. While the race for the White House is still more than one year away, candidates are gearing up for elections early.
While Bush is winning in the race for donors, endorsements and staffers, he needs to make gains with rank-and-file Republicans, Republican strategist Ford O'Connell told Xinhua in an interview.
"The establishment appears at this point to be consolidated behind him, but they are not sure whether his billion dollar balloon is going to bust," O'Connell said.
"Jeb has to find a way to make inroads beyond the establishment if he wants to win this nomination," he said.
Bush will be helped by the fact that his wife hails from Mexico, and that could carry much weight with Hispanics, seen as a crucial voting block and one that usually votes Democratic, although Bush connects better with donors and minorities than he does with rank-and-file Republicans, analysts said.
Certainly, Republicans need a candidate with real star power to match the international celebrity of likely Democratic candidate Hillary Clinton, a former First Lady and Secretary of State who is an instantly recognized brand worldwide.
Clinton enjoys a comfortable lead over all other potential competitors from both the Democratic and Republican camps, according to the CNN/ORC poll.
While much could change before election season comes into full swing, analysts point to two other candidates who could stand up to Clinton's international fame: Florida Senator Marco Rubio and Wisconsin Governor Scott Walker.