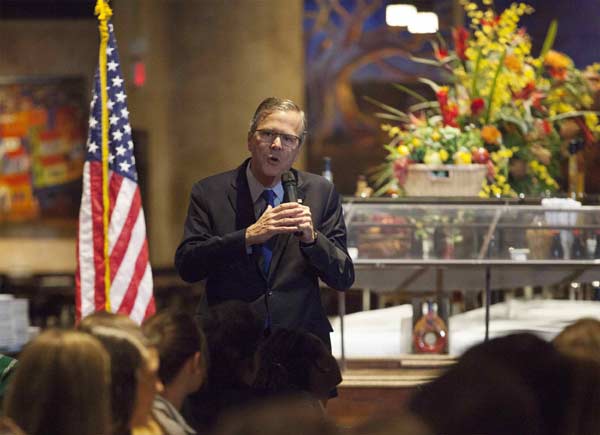 Probable 2016 Republican US presidential candidate and former Florida Governor Jeb Bush addresses the crowd at a Horry County Republican Party breakfast at Rioz Brazilian Steakhouse in Myrtle Beach, South Carolina March 18, 2015. [Photo/Agencies]
Bush's biggest challenge right now is Walker, as the latter connects well with grassroots conservatives and working class voters, O'Connell said.
Rubio will be helped by the fact that he has made his own way in the world and will not be viewed as an elitist. He had attended community college, before graduating from a law school and racking up a hefty amount of student loans in the process, which he worked to pay off later.
Another potential candidate, New Jersey Governor Chris Christie, a big man known for a bombastic and in-your-face style that resonates with many Republicans, may be also able to match Clinton on charisma, analysts say.
And as foreign policy is expected to play a major role in the 2016 race, Christie will likely come out tough against terrorism. But with Bush gobbling up donor money and Christie trailing in the polls, the New Jersey governor is far from a shoo-in.
Often in the US presidential race, candidates emerge stronger and more confident after defeating a slew of rival candidates and clinching their party's nomination. The process also gives candidates the chance to tweak their style, strengthen their message and improve how they relate to the public.
"Whoever gets the Republican nomination will have plenty of star power. That person will have beaten a large field of credible candidates and will have abundant financial resources for the general election," Brookings Institution's senior fellow Darrell West told Xinhua.
"Leadership and competence will be a big part of the discussion given the difficulties the government has had managing its responsibilities," West added.