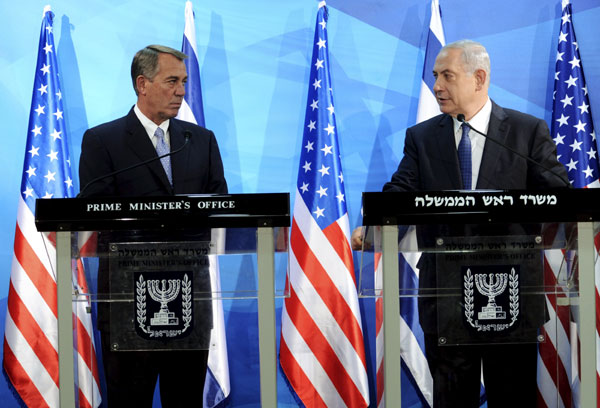 Israeli Prime Minister Benjamin Netanyahu (R) looks at the Speaker of the US House of Representatives, John Boehner, as they deliver statements in Jerusalem April 1, 2015. [Photo/Agencies]
JERUSALEM - Israeli Prime Minister Benjamin Netanyahu on Wednesday urged the international community to harden its stance on a nuclear deal with Iran and insist on a "better deal" that would prevent it from obtaining nuclear weapons.
"The concessions offered to Iran in Lausanne would ensure a bad deal that would endanger Israel, the Middle East and the peace of the world," Netanyahu said on the ongoing negotiations in Switzerland between the six world powers and Iran.
The nuclear talks on Wednesday failed to meet the March 31 deadline for a deal, but the negotiations have continued in Lausanne in an attempt to reach a preliminary agreement.
"Now is the time for the international community to insist on a better deal," Netanyahu said in a broadcast statement, before entering a meeting in Jerusalem with the Speaker of the U.S. House of Representatives, John Boehner, a prominent critic of President Barack Obama's policy on Iran.
According to hardliner Netanyahu, who has been a strong opponent of the deal, "Iran's insistence on keeping underground nuclear facilities, advanced centrifuges and a heavy water reactor" shows that the Islamic Republic's nuclear program is not only for peaceful purposes.
Netanyahu also quoted an Iranian general, who on Tuesday said that "Israel's destruction is non-negotiable."
"Evidently giving Iran's murderous regime a clear path to the bomb is negotiable," noted the Israeli prime minister. "This is unconscionable," he added.
"Iran must stop its aggression in the region, stop its terrorism throughout the world and stop its threats to annihilate Israel. That should be non-negotiable and that's the deal that the world powers must insist upon," he charged.
Iran and the world powers are likely to issue a joint statement later on Wednesday to wrap up the Lausanne nuclear talks, according to Iran's senior nuclear negotiator Abbas Araqchi.
Progress in recent talks will be outlined in the statement, which may take the form of a joint plan of action, Araqchi said in a live broadcast of state IRIB TV.