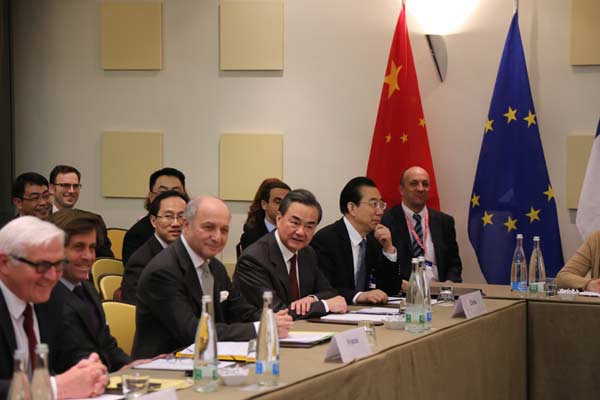 Chinese Foreign Minister Wang Yi(C) attends the plenary session on Iran's potential nuclear framework deal in Lausanne, Switzerland, on March 29, 2015. [Photo/Xinhua]
LAUSANNE - Chinese Foreign Minister Wang Yi has hailed the Iran's nuclear talk in Swiss city of Lausanne as an "important step" towards a comprehensive deal by June 30.
All sides held comprehensive, repeated, thorough discussions on focused issues and they have narrowed their gaps to some extent, Wang told reporter Tuesday night before the end of the talks.
The latest round of talks resumed last Thursday, with all foreign ministers from P5+1 countries and Iran joining the talks Sunday to further narrow down their differences. The P5+1 group comprises the United States, Britain, France, Russia and China plus Germany.
"This round of minister-level meeting is beneficial" Wang said, adding that "it is an important step forward to achieve the final comprehensive agreement."
Wang told reporters that the remaining key issues are linked to each other, so all parties must think creatively to work out a package solution.
In a four-point proposal raised by the Chinese top diplomat for the next phase of nuclear talks, Wang stressed that it is important to give political guidance to the negotiations, to narrow down the differences, to adhere to a step-by-step approach and reciprocity, and to strive for a package solution.
He also pointed out that to resolve the Iranian nuclear issue takes a process and all sides must advance step by step on the basis of reciprocity.
The foreign minister called on all parties to shoulder their due responsibility and obligation.
"No agreement is possible without accommodating core concerns of various parties," he said, adding that it is vital important to give play to the role of the UN Security Council.
On Nov. 24, 2013, the P5+1 group and Iran reached a first-step agreement on Iran's nuclear program, which demanded Iran suspend some sensitive nuclear activities in exchange for limited sanction relief to buy time for the diplomatic effort to resolve the issue.
Since then, the negotiators have twice missed self-imposed deadlines for a final and comprehensive accord, respectively in June and November last year, and they then set March 31 of 2015 as a new deadline for a political framework agreement and June 30 for the final deal, so as to pave the way for the final resolution of the long disputed Iran's nuclear issue.