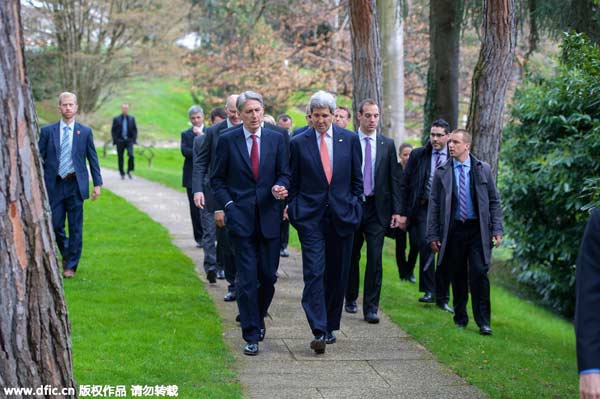 US Secretary of State John Kerry and British Foreign Secretary Philip Hammond chat during a walk on March 30, 2015, in Lausanne, Switzerland, during a break in negotiations with Iranian officials about the future of their country's nuclear program. [Photo/IC]
LAUSANNE - With stubborn disputes unresolved, nuclear talks between Iran and six world powers went past a self-imposed deadline and into overtime as negotiators renewed efforts to hammer out the outline of an agreement.
Enough progress had been made to warrant the extension past midnight Tuesday, State Department spokeswoman Marie Harf said, although there still were "several difficult issues" to bridge.
US Secretary of State John Kerry, who had planned to leave the talks Tuesday, was remaining. And an Iranian negotiator said his team could stay "as long as necessary" to clear the remaining hurdles.
The decision came after six days of marathon efforts to reach a preliminary understanding by midnight Tuesday, drawing in foreign ministers from all seven nations at the table - Iran, the United States, Russia, China, Britain, France and Germany.
After more than a decade of diplomatic efforts to limit Tehran's nuclear advances, the present talks already had been extended twice, demonstrating the difficulties of reaching an agreement that meets the demands of both sides.
The US and its negotiating partners demand curbs on Iranian nuclear activities that could be used to make weapons, and they say any agreement must extend the time Tehran would need to produce a weapon from the present several months to at least a year. The Iranians deny such military intentions, but they are negotiating with the aim that a deal will end sanctions on their economy.
In a sign of the confusion surrounding the end of the talks, Russian Foreign Minister Sergey Lavrov claimed there was agreement on all sides. That statement was quickly contradicted by a Western diplomat.
In Washington, White House press secretary Josh Earnest suggested that talks meant to produce an outline that would allow the sides to continue negotiations until the June 30 final deadline had not bridged all gaps. He said the sides were working to produce a text with few specifics, accompanied by documents outlining areas where further talks were needed.
"If we are making progress toward the finish line, then we should keep going," Earnest said. President Barack Obama held a video conference Tuesday night with Kerry and other members of his national security team, including Vice President Joe Biden and Defense Secretary Ash Carter.