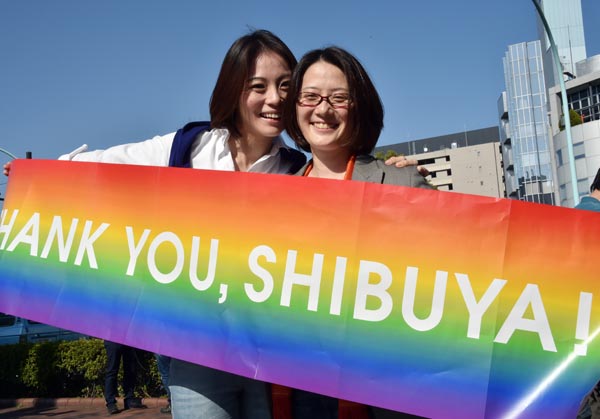 Hiroko Masuhara (left) and Koyuki Higashi express their approval after the Shibuya district assembly in Tokyo voted to recognize same-sex partnerships as equal in status to marriage. The vote followed complaints that gay couples had difficulty renting apartments and visiting their partners in hospitals. The ordinance, the first of its kind in Japan, applies only to Shibuya. YOSHIKAZU TSUNO/ AGENCE FRANCEPRESSE
TOKYO - Tokyo's Shibuya ward has become the first locale in Japan to recognize same sex partnerships as the "equivalent of a marriage," guaranteeing the identical rights of married couples, including hospital visitations and apartment rentals.
The ward assembly voted Tuesday to approve an initiative to start issuing same sex marriage certificates.
The new ordinance applies only to Shibuya, and it's technically not legally binding. Violators, however, will have their names posted on the ward's website.
Shibuya is also planning an aggressive educational campaign on LGBT issues.
Although gay celebrities are visible and popular in Japan, lesbian, gay, bisexual and transgender Japanese say a culture that values harmony and uniformity makes growing up and living as LGBT extremely difficult.