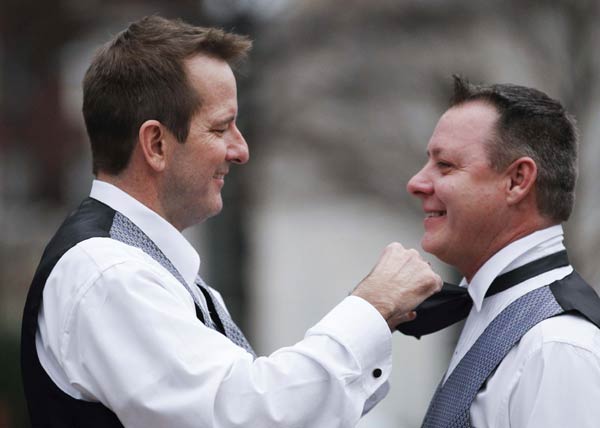 Greg and Roger prepare to marry each other in a park outside Jefferson County Courthouse in Birmingham, Alabama February 9, 2015. [Photo/Agencies]
BIRMINGHAM - Same-sex couples began marrying in parts of Alabama on Monday, acting on the strongest signal yet from the US Supreme Court in favor of gay marriage ahead of an expected ruling, but numerous state judges avoided granting marriage licenses to gay couples in apparent defiance of the high court.
The Supreme Court earlier in the day cleared the way for Alabama to become the 37th state where gay marriage is legal by refusing a request by the state's Republican attorney general to keep weddings on hold until it decides later this year whether laws banning gay matrimony violate the US Constitution.
But same-sex couples in more than 50 of Alabama's 67 counties encountered difficulties in getting marriage licenses, gay rights advocates said, with some counties refraining from issuing licenses to gay couples and others shutting down their marriage license operations altogether.
This followed an order by Roy Moore, the conservative chief justice of Alabama's Supreme Court, instructing probate judges to issue no marriage licenses to gay couples despite a federal court ruling in January throwing out the state's gay marriage ban, effective on Monday.
Moore's chief of staff said the directive still stood despite Monday's US Supreme Court action.
In Birmingham, dozens of same-sex couples married at the courthouse and an adjacent park, where they were greeted by supporters supplying cupcakes along with a handful of protesters bearing crosses and Bibles.
Wiping away tears, Eli Borges Wright, 28, said he was overjoyed to be marrying the man he has been in a relationship with for seven years. "After all of these years, I can finally say this is my husband," he said.