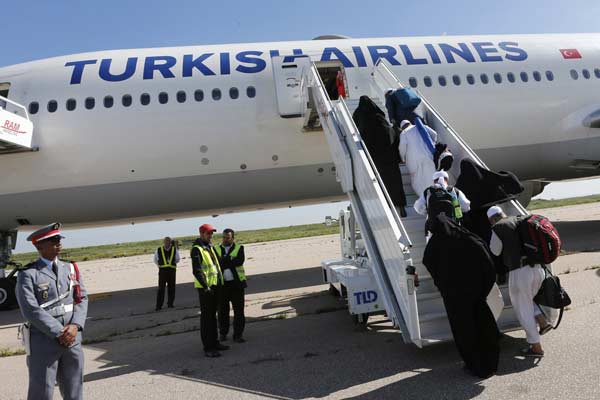 Passengers return to a Turkish Airlines aircraft which sits on a runway after it was declared safe to leave Casablanca, Morocco, March 30, 2015. [Photo/IC] 
ISTANBUL - A Turkish Airlines flight heading for Brazil was forced by a bomb threat to land in Morocco for more than three hours on Monday, but was cleared to fly on after no explosives were found.
Flight TK15 had departed from Istanbul bound for Sao Paulo when a note with the word "bomb" was found in a lavatory, a spokeswoman said. It was the airline's second such scare in two days.
The Boeing 777, with 256 passengers on board, declared an emergency and diverted to Casablanca, landing at around 1230 GMT. No explosives were found and the aircraft was cleared to resume its flight.
The flight took off from Casablanca airport for its initial destination at 1600 GMT.
On Sunday, a Turkish Airlines flight from Istanbul bound for Tokyo turned back shortly after take-off when a note reading "C4 Cargo" was found on the lavatory door, Turkish media said. C-4 is a variety of plastic explosive. No explosives were found on the aircraft.