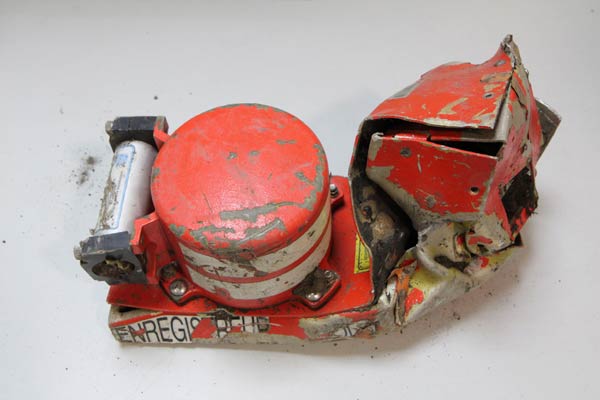 A black box from the German Airbus operated by Lufthansa's Germanwings budget Airbus A320 crash is seen in this photo released March 25, 2015 by the BEA, France's Bureau d'Enquetes et d'Analyses (Air Accident Investigator). [Photo/Agencies]
SEYNE-LES-ALPES - French investigators cracked open the mangled black box of a German jetliner on Wednesday and sealed off the rugged Alpine crash site where 150 people died when their plane slammed into a mountain.
The dented, twisted and scarred cockpit voice recorder was being mined by investigators for clues into what sent the Germanwings Airbus 320 into a mid-flight dive Tuesday after pilots lost radio contact over the southern French Alps during a routine flight from Barcelona to Duesseldorf. Germany's top security official said Wednesday there was no evidence of foul play.
Helicopters surveying the scattered debris lifted off at daybreak to eye the craggy ravine. Emergency crews, meanwhile, traveled slowly over the steep, rocky terrain to the remote high-altitude crash site through fresh snow and rain. Bereaved families and the French, German and Spanish leaders were expected later Wednesday.
"The black box is damaged and must be reconstituted in the coming hours in order to be useable," French Interior Minister Bernard Cazeneuve told RTL radio.
Key to the investigation is what happened in the two minutes of 10:30 am and 10:31 am, said Segolene Royal, a top government minister whose portfolio includes transport. From then on, air traffic controllers were unable to make contact with the plane.
The voice recorder takes audio feeds from four microphones within the cockpit and records all the conversations between the pilots, air traffic controllers as well as any noises in the cockpit. France's air accident investigation agency released images of the orange casing, mangled and scarred from the impact.
The flight data recorder, which Cazeneuve said has not been retrieved yet, captures 25 hours' worth of information on the position and condition of almost every major part in a plane.
France's air force says it scrambled a Mirage fighter jet to the area when the flight lost radar contact, but arrived too late to help.