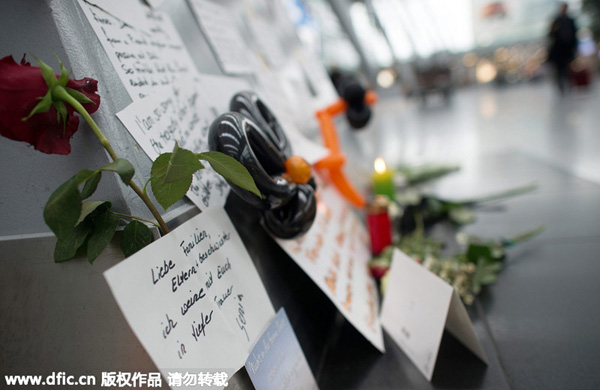 Candles, flowers and hand written notes of sympathy for the victims of the crashed Germanwings Flight 4U 9525 are placed in front of the departures hall of the airport in Duesseldorf, Germany, March 25, 2015. [Photo/IC]
DUESSELDORF, Germany - The German opera company Deutsche Oper Am Rhein on Wednesday mourned a renowned opera singer who had died in the Germanwings plan crash.
A condolence book, white candles and a portrait picture of Oleg Bryjak, have been put in the opera shop, providing a way for people to write their condolences for the 54-year-old opera singer.
"We were completely shocked and totally sad about his awful death," said Stephen Harrison, opera director of Deutsche Oper Am Rhein.
Harrison said when he told his colleagues this sad news, they cried and were greatly shocked, and previously arranged rehearsal had to be canceled.
"He was a wonderfully warmhearted and generous person. We were very sorry to lose him," he lamented, adding that his colleagues were planning to give the well-known singer a concert.
The aircraft A320 operated by Lufthansa's budget airline Germanwings crashed Tuesday in the southern French Alps en route from Barcelona, Spain to Dusseldorf, Germany, killing all 144 passengers and six crew members aboard.
Stefan Heidemann, colleague and friend of Bryjak for more than 20 years, told Xinhua that he was speechless for a long time after hearing the sad news, and he could not believe what has happened even now.
"I have contacted his family members, and I will always be ready if they need me," Heidemann said with tears in his eyes.