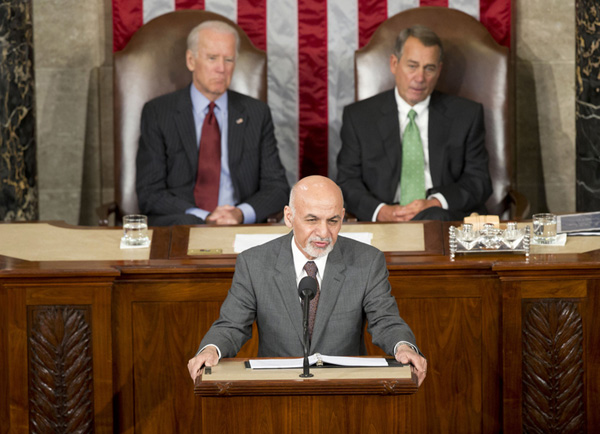 Afghanistan's President Ashraf Ghani speaks before a joint meeting of Congress on Capitol Hill in Washington, March 25, 2015. [Photo/IC]
WASHINGTON - Visiting Afghan President Ashraf Ghani on Wednesday warned that extremist groups such as Islamic State (IS) pose a "grave and present danger" to Afghanistan's security transition.
"Afghanistan's security transition took place against the backdrop of the unexpected rise of religious extremism in the Middle East," Ghani told a joint session of US Congress. " Terrorist movements whose goal is to destabilize every state in the region are looking for new bases of operation. We are the front line."
Just hours before Ghani's speech to US lawmakers, at least six people were killed and more than 30 were wounded in a suicide car bombing near the presidential palace in Kabul, the Afghan capital city.
"From the West, the Daesh is already sending advance guards to southern and western Afghanistan to push our vulnerabilities," said Ghani, referring to IS in its Arabic name. "To the south, Pakistan's counterinsurgency operations ... are pushing the Taliban from South Waziristan towards Afghanistan's border regions. "
Ghani was currently on a week-long state visit to the United States to lay the groundwork for new relations between the two countries after more than a decade of troubled ties under the leadership of former Afghan President Hamid Karzai.