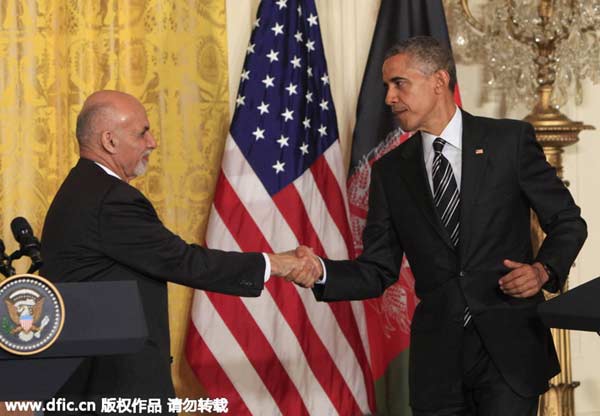 US President Barack Obama (right) and Afghan President Ghani hold a press conference in the East Room of the White House, on March 24, 2015. [Photo/IC]
WASHINGTON - US President Barack Obama on Tuesday granted Afghan requests to slow the drawdown of US troops from Afghanistan and said he would maintain a force of 9,800 through the end of 2015 while sticking to a 2017 exit plan.
Capping a day of VIP treatment for Afghan President Ashraf Ghani at the White House, Obama said the US force would be kept at its current strength to train and assist Afghan forces, who took over responsibility for the fight against Taliban and other Islamic militants at the start of the year.
Obama said the pace of the US troop reduction in 2016 would be established later this year and the goal remained to consolidate US forces in the country in a presence at the Kabul embassy at the end of 2016.
Under a previous plan US forces were to have been cut to about half of the current level of just under 10,000 by the end of 2015, but US officials said improved relations with Afghan leaders contributed to a revision of the plan.
"It was my assessment as commander in chief that it made sense for us to provide a few extra months for us to be able to help on things like logistics," Obama said during a joint news conference with Ghani at the White House.
"The date for us to have completed our drawdown will not change," he said. "Providing this additional timeframe during this fighting season for us to be able to help the Afghan security forces succeed is well worth it."
A senior US official told Reuters last week the US military bases in Kandahar and Jalalabad were likely to remain open beyond the end of 2015.