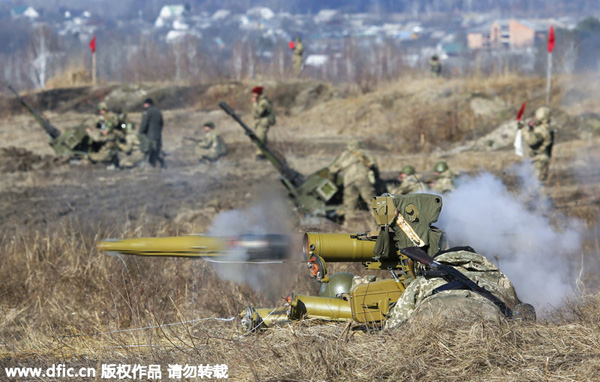 Ukrainian paratroopers fire a weapon during their military exercise on the shooting range near of Perlyavka village not far of Zhytomyr in Ukraine, March 6, 2015. [Photo/IC]
WASHINGTON - The House of Representatives has overwhelmingly approved a resolution urging US President Barack Obama to send lethal weapons to Ukraine.
The resolution was approved Monday 348 to 48.
There is bipartisan support in Congress to provide the arms to Ukraine forces. Russian President Vladimir Putin denies arming rebels in the war in eastern Ukraine, which began in April after Moscow annexed the mostly Russian-speaking Crimean Peninsula.
US State Department officials say Obama administration officials are discussing lethal assistance but are waiting to see whether the agreements that led to February's cease-fire are implemented.