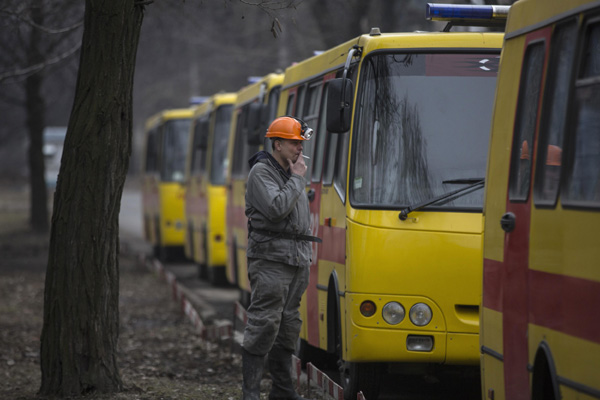 A man smokes near emergency vehicles parked outside Zasyadko coal mine in Donetsk March 4, 2015. [Photo/Agencies]
KIEV - At least 32 people were killed in an explosion early Wednesday at the Zasyadko mine in eastern Ukraine's Donetsk region, Ukrainian Parliament Speaker Volodymyr Groysman said.
The mine is controlled by the pro-independence insurgents, Groysman told lawmakers, without giving further details.
The emergency ministry of the self-proclaimed Donetsk People's Republic (DPR) said earlier that one person was killed, 14 others were injured, and over 70 miners were trapped.
Meanwhile, according to the state department of basic industries development in Donetsk, the explosion took place at around 5:30 am local time (0330 GMT) when a large amount of methane gas was ignited 1,200 meters below the surface.
The Ukrainian Independent Union of Miners said there were 207 people working underground at the time of the explosion and 47 miners remain missing.
Operations at the mine were suspended and rescue efforts are underway.
The Zasyadko mine, which is reportedly dangerous for its high methane content, has a long history of safety violations.
In November 2007, 101 workers were killed in an accident at the mine. In December 2007, another 52 workers were killed there and five more were killed in another accident later that month.