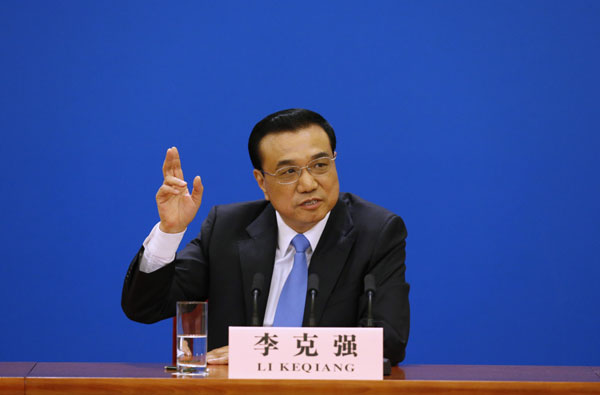 Chinese Premier Li Keqiang speaks at a news conference after the closing session of the 12th National People's Congress (NPC), at the Great Hall of the People, in Beijing, March 15, 2015.[Photo/Xinhua]
China respects Ukraine's sovereignty and territorial integrity, and hopes the Ukraine issue can be settled through dialogue, Premier Li Keqiang said on Sunday.
"On the issue of Ukraine, China has adopted an objective and just position. We respect Ukraine's independence, sovereignty and territorial integrity," Li told a press conference after the conclusion of China's annual parliamentary session.
These were also the words that he told the Ukrainian president during their recent meeting, Li said. He met Ukrainian President Petro Poroshenko on the sidelines of the World Economic Forum annual meeting in Switzerland in January.
The issue of Ukraine has added to the complexity of the geopolitical situation and impacted global economic recovery, the premier said.
"We hope there will be a negotiated settlement of this issue through dialogue," Li said.
"We hope there will be harmonious coexistence between neighbors, and what we hope to see is that there will be the pursuit of common development and win-win outcomes between European countries and between all countries in the world."