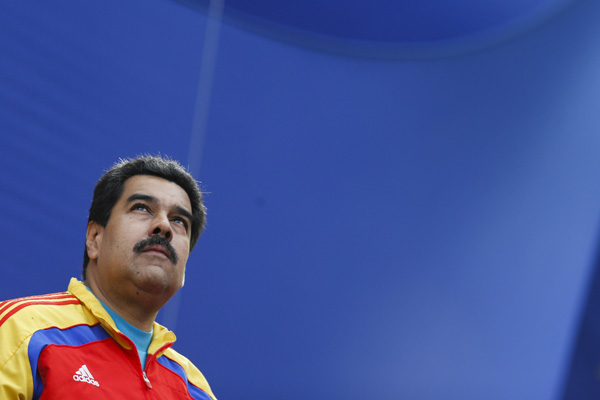 Venezuela's President Nicolas Maduro looks on outside Miraflores Palace in Caracas March 15, 2015. [Photo/Agencies]
CARACAS - Venezuelan President Nicolas Maduro said on Wednesday his government will start a world campaign this week to demand that US President Barack Obama repeal his executive order that declared Venezuela was a "threat" to US national security.
Speaking at a rally of Venezuelan oil workers, Maduro said this campaign will be called "Venezuela is not a threat" and will include public gatherings at hundreds of important cities worldwide to condemn Obama's recent decisions.
"Venezuela isn't a threat. We are people of hope, life, joy, future and development. We want to live in a peaceful society. That is why I demand Obama repeal his executive order now," Maduro said.
Domestically, the president added, around 10 million people will sign the recent ad which he published in The New York Times and will be sent to the White House.
"I have activated all diplomatic mechanisms worldwide and denounced Obama's executive order," Maduro added.
Maduro was thankful for the international support he has received from organizations including the Non-Aligned Movement, which published a statement rejecting the "disproportionate" use of power from Obama, and the Bolivian Alliance for the Peoples of Our America. The latter held a summit in Caracas on Tuesday to rally behind to Maduro on the issue.
Obama issued an executive order on March 9, imposing additional sanctions on Venezuelan officials. He also declared a "state of emergency" as the situation in Venezuela "constitutes an unusual and extraordinary threat to the national security and foreign policy of the Unite States."