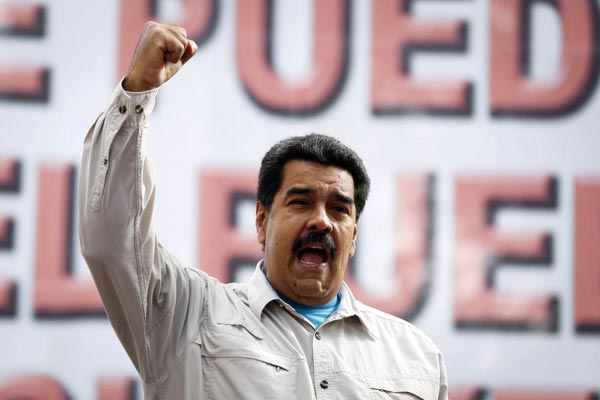 Venezuela's President Nicolas Maduro speaks to supporters during a rally against imperialism, in Caracas, March 12, 2015. [Photo/Agencies]
CARACAS - Ridiculing the US qualification of Venezuela as a security threat, President Nicolas Maduro said on Thursday he may travel to Washington to challenge American counterpart Barack Obama.
"We demand, via all global diplomatic channels, that US President Obama rectify and repeal the immoral decree declaring Venezuela a threat to the United States," Maduro said.
In the worst flare-up between the ideological enemies since Maduro took power in 2013, Washington earlier this week declared a "national emergency" over "the unusual and extraordinary threat" from Venezuela and sanctioned seven officials over allegations of rights abuses and corruption.
The Maduro government has demanded evidence of how it threatens US security. Conversely, it accuses Washington of helping coup plotters and preparing a military invention.
US officials say the Obama government's intention is to make Venezuela's government change its ways, not fall.
Speaking at a book fair, Maduro, the 52-year-old successor of Hugo Chavez, said Venezuela was preparing an event in Washington to press its case.
"Maybe I'll appear in Washington at that exhibition, to show my face for my country and tell the government in Washington they are committing grave mistakes," he said.
No more details of the event were given.