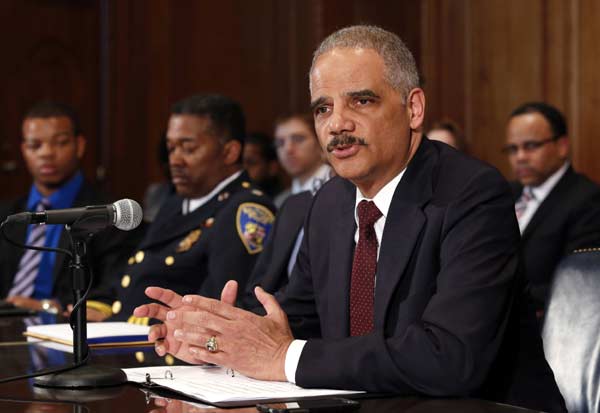 US Attorney General Eric Holder arrives to talk to the media about the shooting of two police officers in Ferguson, and to announce pilot cities for DOJ program to build trust between law enforcement and communities they serve, at the Justice Department in Washington March 12, 2015. [Photo/Agencies]
FERGUSON, Mo.- The shooting of two police officers during a protest rally in Ferguson, Missouri, sparked a sweeping manhunt for suspects on Thursday and ratcheted up tensions in a city at the center of a national debate over race and policing.
US President Barack Obama and Attorney General Eric Holder condemned the attack on the officers, who were treated for wounds at a local hospital and released.
"What happened last night was a pure ambush," Holder said at a press conference. "This was not someone who was trying to bring healing to Ferguson; this was a damn punk."
The two officers were part of a security detail at a rally being staged in front of the Ferguson police station when they were hit by gunfire.
Demonstrators had gathered to demand sweeping changes in the St. Louis suburb after the release of a scathing US Justice Department report that found that deep-rooted racial bias within its mostly white police force. The report grew out of the shooting in August of an unarmed black teenager by a white police officer.
While condemning the wounding of the officers, organizers vowed more protests on Thursday night.
"We deplore all forms of violence," said Reverend Osagyefo Sekou, who was in the crowd when shots rang out. "But we also deplore the findings of the Department of Justice report and the suffering and the misery that this community has endured."
To prevent further violence, St. Louis County police and the state's Highway Patrol will take over security from the mostly white Ferguson force during any demonstrations.
The state took a similar step in November after two nights of rioting that followed the announcement that a grand jury would recommend no charges in the killing of 18-year-old Michael Brown. Outrage over the officer's use of deadly force and how the justice system handled it touched off a nationwide wave of protests.
Thursday's shooting left a 41-year-old St. Louis County police officer with a shoulder wound and a 32-year-old officer from nearby Webster Groves Police Department with a bullet lodged near his ear, St. Louis County Police Chief Jon Belmar said.